Kale Pesto: A Celebratory Farm to School Month Snack
Posted on October 7, 2020
Our Farm to School work has always had a strong focus on the cafeteria, which we often call the biggest classroom in the school building. To celebrate Farm to School Month this October, the SHelburne Farms Inn Kitchen reimagined a staple recipe from our first-of-its-kind cookbook for school nutrition professionals, kale pesto! (Recipe below.)
And one more thing to celebrate during Farm to School Month: Universal Free School Meals! As a result of Covid-19 and flexibilities at the federal level, for the first time ever, all Vermont schools are currently providing Universal Free School Meals to their students. This has been a long sought after goal of organizations that make up the state's Farm to School Network, and now our commitment is stronger than ever to move the state to a permanent Universal Free School Meals platform incorporating the Farm to School model of healthy meals made with locally sourced ingredients.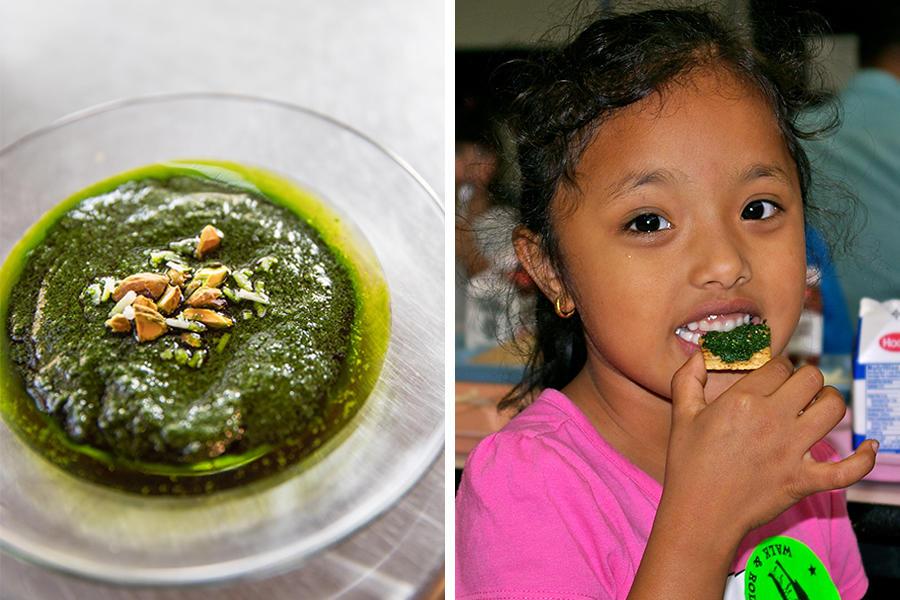 Kale Pesto & a student taste test at the Sustainability Academy's Kale Celebration, 2015.
Kale Pesto
Ingredients
1 large bunch Tuscan kale*, ribs and stems removed
Kosher salt
⅓ cup raw pistachios
1 cup extra-virgin olive oil
1 garlic clove
1/2 cup Parmesan, finely grated
*The Inn Kitchen found Tuscan kale to work best, although any type will work. Find out more about the different types of kale here.
Directions
Cook the kale in a large pot of boiling salted water for 30 seconds (until the color turns bright green and the leaves are wilted). Remove kale from the pot with tongs and cool in a bowl of ice water.
Once the kale is cool, remove from the ice water and squeeze out any excess water with your hands.
Put the kale, nuts, olive oil, and parmesan in a blender and blend while adding the olive oil in a steady stream.
Once the pesto has reached the desired smoothness and consistency, season with salt to taste. Toss with pasta or steamed vegetables, or use as a dip with crackers!
Recipe adapted from New School Cuisine: Nutritious and Seasonal Recipes for School Cooks by School Cooks  & Bon Appetit.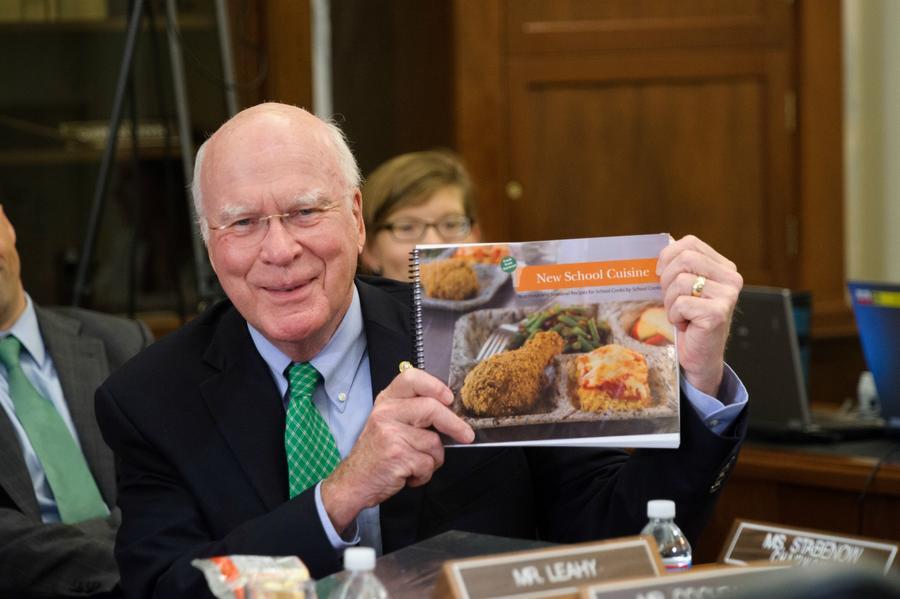 Senator Leahy celebrating the release of our cookbook, 2014.