Farm to School Planning Toolkit
The following diagram shows the Action Cycle for Farm to School programs and helpful resources for each stage, which we use with the Farm to School Institute. Click the links below to access individual resources. All resources are copyright of Vermont FEED and can be used and adapted with permission.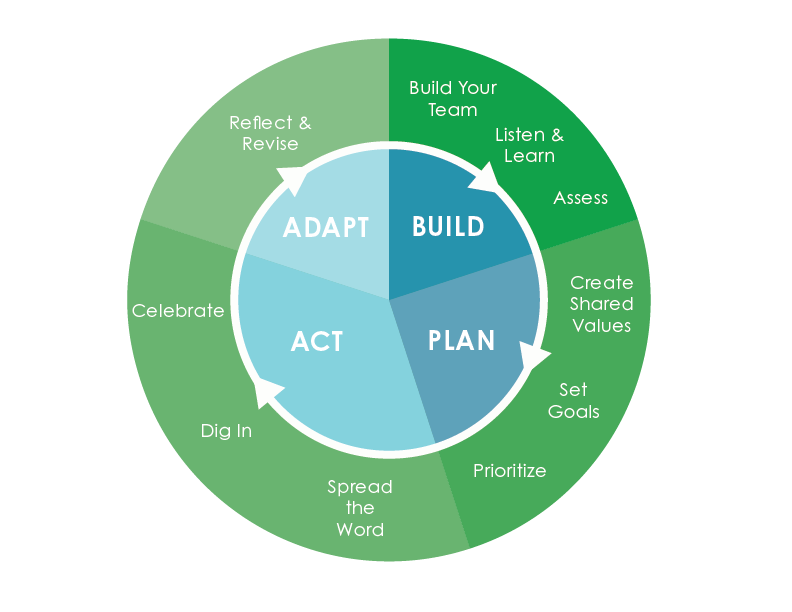 Get the Resources:
Download and print the Farm to School Action Cycle (pictured above)
Farm to School Rubric [PDF] or editable Word document
This Rubric is designed to help schools or districts assess the stage of your Farm to School program, which can help inform action planning to identify what next steps could be taken to deepen the program and give it greater staying power. It can also be used to identify readiness for Farm to School grants and needs for technical assistance.
FTS Action Planning Template [PDF] or editable Word document
These worksheets are designed to help you get going on your Farm to School plan. Use it to brainstorm and think through the goals, action steps, group members, timeline, and resources/assistance needed.
Impact & Feasibility Analysis Tool
This tool helps you facilitate a group discussion of options that have the highest benefit or impact for the least effort or cost—in terms of both time and expense. It's similar to a "cost-benefit analysis" that helps you prioritize, match actions to your capacity, and stay realistic about timing.
Media Kit & editable Press Release Word document
This simple media kit will help you spread the word about your school's plans and activities and your selection for the Northeast Farm to School Institute. Publicizing your participation in the Institute through local press and communication channels will help build support for your food, farm, and nutrition work—now and long­term. In this kit you'll find tips for media outreach, social media, and a press release template.
FTS Communications & Outreach Planning