Black Bean Brownies
New School Cuisine: Nutritious and Seasonal Recipes for School Cooks by School Cooks - download the full cookbook for free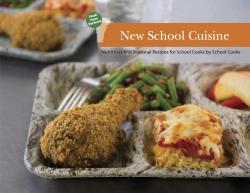 By using a bean purée in place of a portion of the oil, this recipe increases the fiber and nutrients and decreases the calories and fat per serving. Created by Chef Jim McCarthy of Shelburne Farms, these brownies are vegan and a proven hit for adults and children alike. Read more about the interplay of taste, nutrition, and budget in school meal planning here. Download a print-friendly recipe here.
Black Bean Brownies
Makes one 9" x 9" tray.
Ingredients
3/4 C black beans
1/2 C vegetable oil
2 eggs
1/4 C unsweetened cocoa powder
2/3 C sugar
1 t vanilla
1/2 C mini dark chocolate chips, divided
1/3 C white whole wheat flour
1/2 t baking powder
1/2 t salt
Directions
Preheat oven to 350°F.
Grease a 9" x 9" square baking pan.
In a food processor, purée the beans with the oil. Add the eggs, cocoa, sugar, and vanilla.
Melt 1/2 of the chocolate chips and add to the mixture and blend until smooth.
In a separate bowl, whisk together the flour, baking powder, and salt. Add to the processor and pulse until just incorporated. Stir in the remaining chocolate chips.
Pour into the prepared pan and bake for about 15 minutes, or until a toothpick comes out clean.
Let cool for at least 10 minutes before cutting and eating.