Banana-Oat Breakfast Rounds
New School Cuisine: Nutritious and Seasonal Recipes for School Cooks by School Cooks - download the full cookbook for free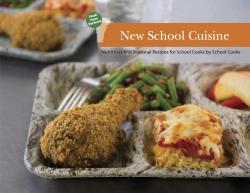 By using a fruit purée in place of oil or fats, this recipe increases the fiber and nutrients and decreases the calories and fat per serving. Created by Chef Jim McCarthy of Shelburne Farms, these breakfast rounds are vegan and a proven hit for adults and children alike. Read more about the interplay of taste, nutrition, and budget in school meal planning here. Download a scaled-up, print-friendly recipe — a great resource for school cafeterias — here.
Banana-Oat Breakfast Rounds
Makes 16 3oz. cookies.
Ingredients
5 ripe bananas
3/4 C unsweetened apple sauce
3 C oats
1/2 C raisins
1/2 C dried cranberries
1/2 C dark chocolate chips
1/2 C sunflower seeds
1 t cinnamon
1 t vanilla
2 T maple syrup
a pinch of salt
Directions
Preheat the oven to 325°F.
Purée the bananas in a food processor until they become a thick liquid.
In a bowl, combine all of the ingredients and stir to combine.
Scoop mixture onto greased parchment paper and bake at for 15 minutes or until just set.  Serve warm or at room temperature.