Summer Meal Programs Keep Kids' Bellies Full All Year
With NOFA-VT leading the charge, VT FEED has been working with local partners to bring nutrition education and free, healthy food to kids throughout Vermont during the summer when finding such meals can be most difficult. Hunger Free Vermont reports, "Over 38,000 Vermont children depend on free or reduced-price school meals during the school year. When school cafeterias close in June, many of these children lose their most important source of balanced nutrition, leading to weight gain and falling behind their peers academically."
Having fresh, free food available to kids twelve months of the year is crucial. NOFA-VT, as a partner with Shelburne Farms in VT FEED, and Hunger Free Vermont are helping to bring meals to local farmers' markets and summer program sites so kids have direct access to meals. Summer camps and meal sites can provide the opportunity for nutrition education, too, such as the activities at the recent Danville Summer Program where kids taste tested a dressing to go along with their lunch items.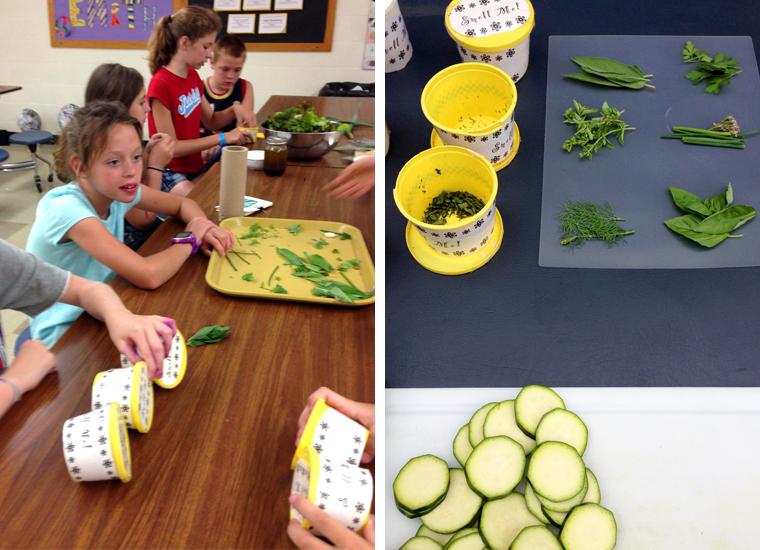 Danville Summer Program kids smell, taste, and cook
Similar programming is available at the Brookside Trailer Park in Starksboro, where Addison Northeast Supervisory Union sponsors a summer meals site. NOFA-VT staff and kids made a summery dip to pair with local sugar snap peas from Lewis Creek Farm. By learning to love the practice of making food, farm to school practitioners believe kids will become more invested in their own nutrition and agricultural roots.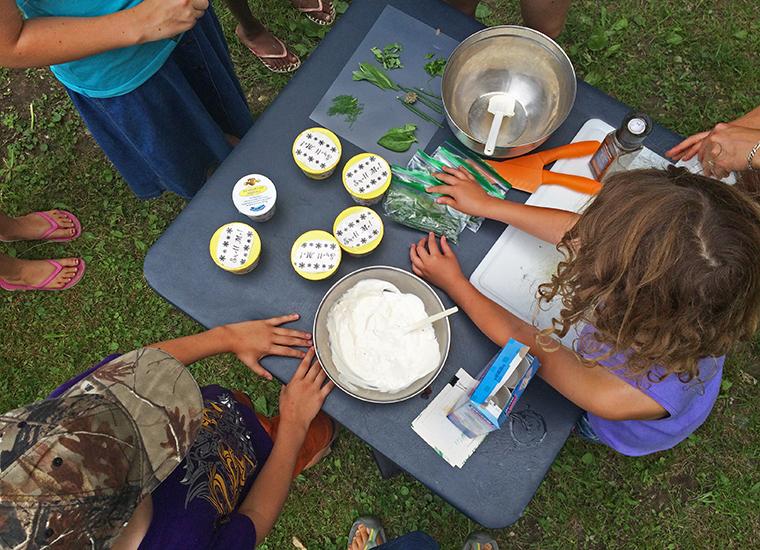 Kids make dip in Starksboro
Free meals are also being served at weekend farmers' markets in Winooski (Sundays in July) and Saint Johnsbury (Saturdays in July). Kids 18 and under can visit NOFA-VT's tent and grab a to-go meal with no questions asked. Charlotte B. visited the Winooski market, and her three kids (aged nine, three, and three) happily grabbed a meal last Sunday:
"I was very impressed with the quality of the food…They enjoyed each of the foods, and I was surprised how well they took to the noodles, which included a large variety of vegetables that they probably would not have eaten if served individually. I also was appreciative of how many local seasonal products were featured.

I love that there was no registration needed, no paperwork, and no proof of income or address required, making the program very accessible to all without any judgment or stigma attached."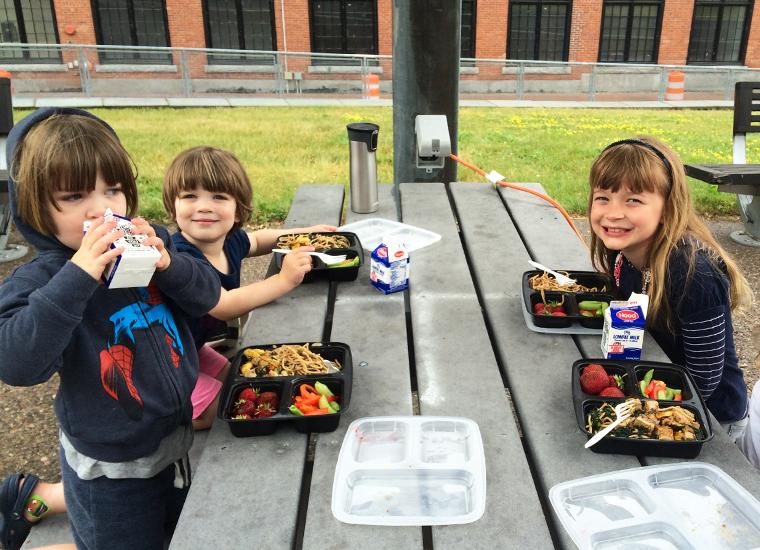 Kids eat a locally sourced, healthy lunch handed out at the Winooksi Farmers' Market
Fifty meals were handed out on Sunday, and the team will be back every Sunday throughout the month. The Winooski Community Partnership, The City of Winooski Parks and Recreation Department, and Winooski School District Food Service Program partnered on the project. Winooski Teen Harvesters and their AmeriCorps instructor Colleen Sullivan work in the city's community garden and harvest produce from their plots to sell at the market and inspire the meals. Although they don't grow a large enough quantity to supply the actual ingredients for the summer meals being served, they do communicate with the chef what produce they will be selling each week. The chef, in turn, purchases the same produce from local farms and incorporates it into the meals. That way, kids eating the meals can be sure to see the ingredients they are eating for sale at the market, further increasing their familiarity with it.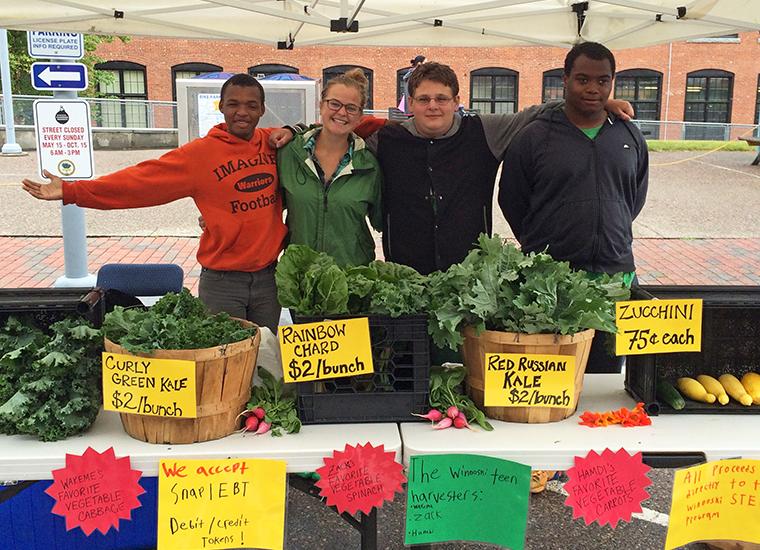 The Winooski Teen Harvesters' booth at the Winooksi Farmers' Market
Looking for more information about summer meal sites? Check out these resources from NOFA and Hunger Free VT. For more information about the Winooski Farmers' Market free meals program, read the USDA's recent blog post and watch this clip from My Champlain Valley. For more general information about the importance of summer meal programs, read this 2014 story from PBS.