Quinoa, Black Bean & Butternut Squash Salad
Posted on August 31, 2016
This recipe is adapted from the VT FEED publication, New School Cuisine: Nutritious and Seasonal Recipes for School Cooks by School Cooks. Released in 2013, the cookbook was made in effort to share recipes among child nutrition professionals who cook food that nourishes children's bodies and minds.
Served warm or cold, this grain salad is a filling alternative to your typical pasta salad. If you or the kids your cook for are new to quinoa, this is an approachable first foray into this ancient grain: colorful, bright, but still offering recognizable flavors. And – with roasted squash season just around the corner – it eases you into the hearty cold weather staples that will be filling our bellies through March May.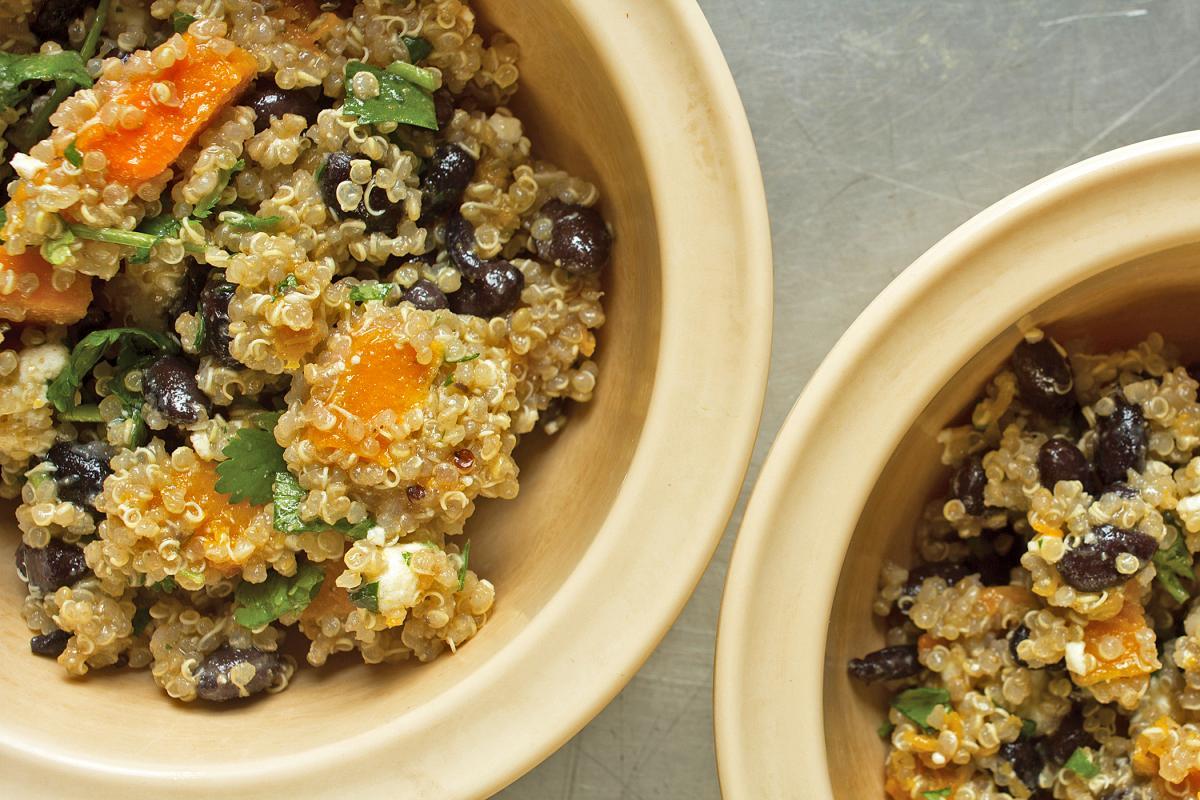 Quinoa, Black Bean, and Roasted Butternut Squash Salad
(Makes six 1C servings)
Ingredients
1 lb butternut squash
1T olive oil
2t ground cumin
2t chopped garlic
2C chicken or vegetable broth
1C quinoa, rinsed and drained
3T canola oil
2t cider vinegar
1t lemon juice
1 14.5 oz. can black beans, rinsed and drained
1t maple syrup
¾  C crumbled feta
⅓ C chopped cilantro
Salt and pepper to taste
Directions
Preheat oven to 400ºF.
Peel squash, cut in half, and scrape out seeds. Cut into ⅓ -inch cubes.
Toss the squash, olive oil, cumin, garlic, and salt and pepper to taste in a large bowl. Spread evenly onto a full sheet pan. Bake for 25 minutes; stir gently. Bake until the squash is softened and beginning to brown, 10 to 1 minutes more. Chill.
Bring the broth to a boil. Stir in quinoa. Reduce to low, cover and cook until the liquid is absorbed, about 20 minutes. Chill.
Process oil, vinegar, lemon juice, maple syrup, and salt and pepper to taste in a blender until smooth and creamy.
Mix the cooled squash, quinoa, black beans, feta cheese, and cilantro into a large bowl. Drizzle with dressing and stir gently to combine.
You can find New School Cuisine: Nutritious and Seasonal Recipes for School Cooks by School Cooks in PDF form as a free download here. To purchase a physical copy of the book, visit the Shelburne Farms online store. Download a scaled-up version of this recipe for 60 ½ C portions here.
Did you know October is National Farm to School month? Find out more about this national campaign here, and be sure to peruse our Resource Library for plenty of Farm to School planning and implementation guides and ideas.