One Northeast Farm to School Institute Team's Journey
"The whole purpose of this is to feed hungry kids good food," announced Mary Dunn, Albert S. Hall School 5th grade teacher, and founder of the school's Farm to School efforts.
It all began nine years ago when Mary started bringing fresh vegetables from her home garden into the classroom. She was astounded to find that many of her students did not recognize a carrot. The students didn't know what it was, where it came from, or how it could possibly be tasty or healthful. So she set out on the long journey to bring a Farm to School (FTS) program to Albert S. Hall, a 4th & 5th grade school in Waterville, Maine.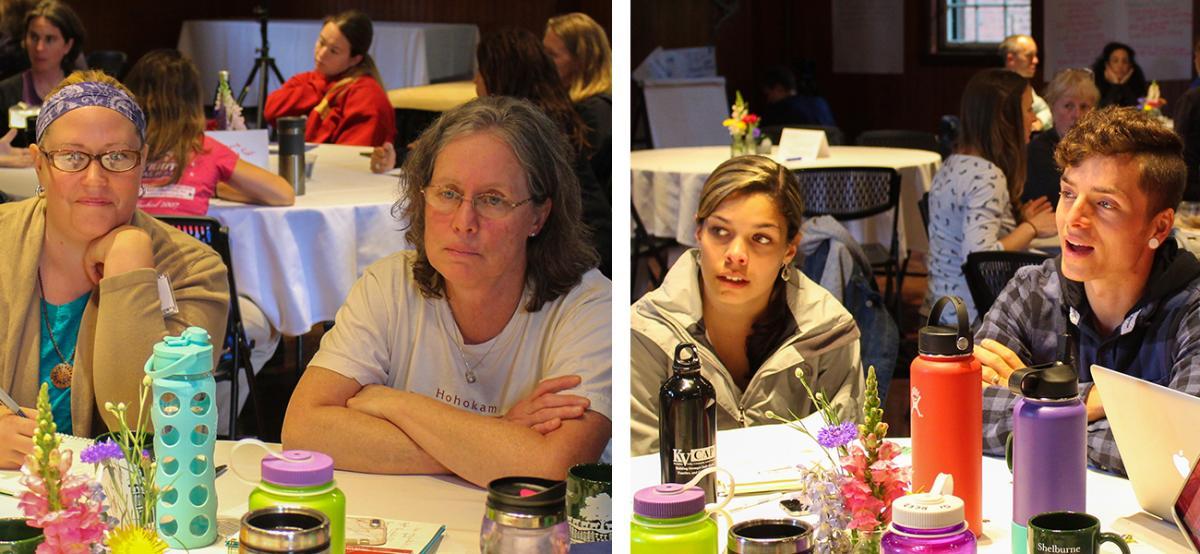 Left to right: Albert S. Hall team members Kelly LaCasse, Mary Dunn, Samuel McClean, and Baylee Doughty work collaboratively to create a viable farm to school plan.
Fast forward to our 2017 Northeast Farm to School Institute (NEFTSI), where Mary and her team of a fellow teacher (Gi Reed), school nurse (Ellen Turgeon), Food Corps volunteer (Samuel McClean), and community partners (Baylee Doughty & Gabriel Pinette) gathered at Shelburne Farms to develop a comprehensive, school-wide FTS Action Plan during three days of intensive workshops.
The Institute began on a sunlit Tuesday morning with the pristine backdrop of Shelburne Farms dazzling participants who travelled from all across the Northeast.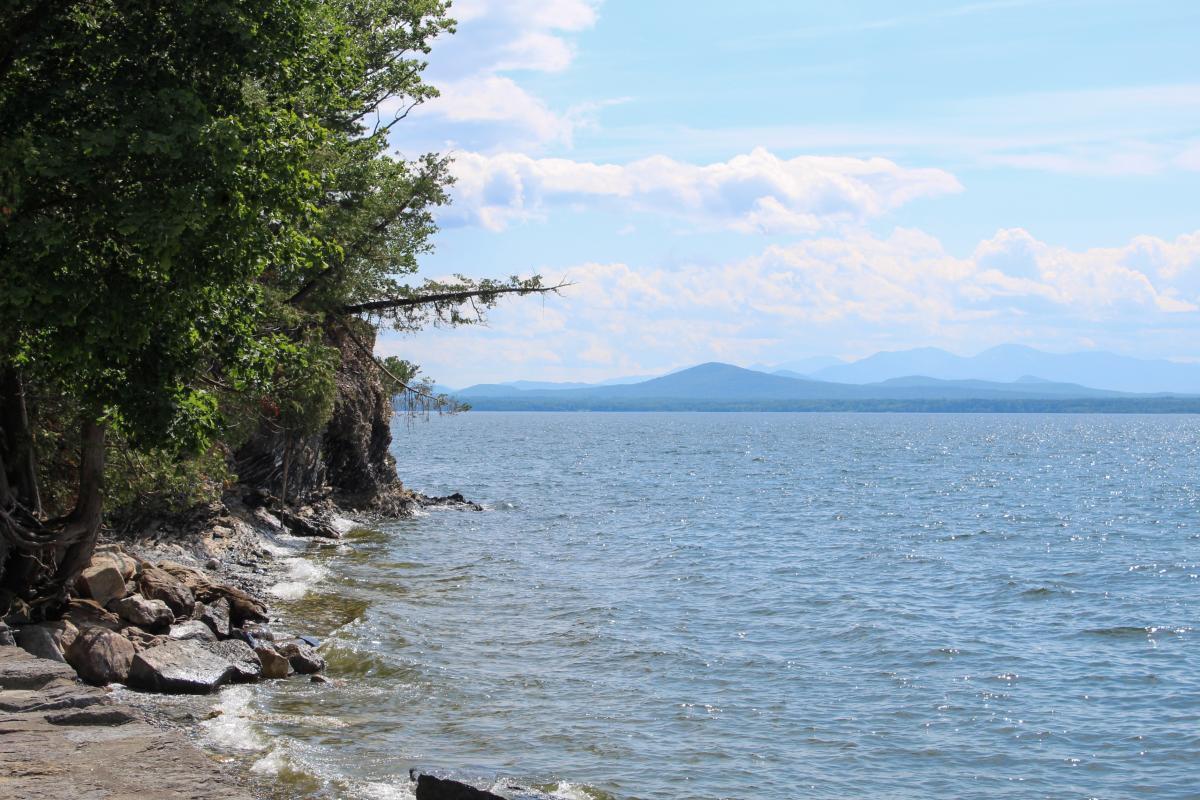 The lakefront at Shelburne Farms
The Albert S. Hall School team's coach, Kelly LaCasse from the Maine Farm to School Network, took the reigns as a devoted supporter and partner in developing a coordinated and sustainable FTS effort. Mary, who had long been working a slow uphill battle toward furthering FTS in her community, expressed her gratitude for finally having outside community support to help move her school's efforts along.
As the next few days of the Institute unfolded, the Albert S. Hall team enjoyed the many benefits of participation the NEFTSI has to offer. They networked and shared innovation with other school teams, gained insight from workshops with USDA Farm to School officials, and delighted in some lighthearted fun at a field trip to Shelburne Farms famed OBread Bakery.
Throughout the year, Coach Kelly will help the team implement their school Action Plan. She even scored artist Bonnie Acker's FTS inspired collage artwork to proudly don the walls of the Albert S. Hall School and serve as a reminder that "Farm to School feeds the soul."
Left: Institute team members learn how to make dough. Right: Kelly LaCasse and NOFA-VT's Abbie Nelson pose with Bonnie and the beautiful art that was made with participants' help at the Institute.
Of course, developing a FTS plan is no easy process, and the team experienced several bumps in the road. They sought to improve coordination with food service directors who are stretched thin covering Waterville's and neighboring towns' schools. They worried about increased cuts to administrative budgets. They pondered a more effective system for transporting the USDA's daily fruit and veggie delivery to the school cafeteria.
But the team was also ripe with innovative ideas to smooth over the bumps and allow their program to flourish. They discussed plans to bring taste testing events and fruit and veggie curriculum into the classroom. They made plans to host a lunch lady cook-off and to provide school lunch staff with chefs coats. And they hope to increase adult participation in the school's food pantry.
As the Institute came to a bittersweet close, the Albert S. Hall School team synthesized all they had learned into a 30-second elevator pitch unique to their FTS program. Three statements continued to ring true:
"We want to help kids be ready to learn, happy, and healthy,"
"We foster positive relationships with food and strengthen our community," and of course,
"We feed hungry kids good food."
​Just before getting on the road, Mary shared how far her kids had come since their first introduction to carrots nine years ago. "They are so far past the "eww factor!" she exclaimed. She fondly described how her students now ask to try new veggies. They inquisitively read nutrient labels. And they are slowly understanding the "why" behind Farm to School. There is no doubt that the Albert S. Hall School's Farm to School program will be more successful than ever before this school year.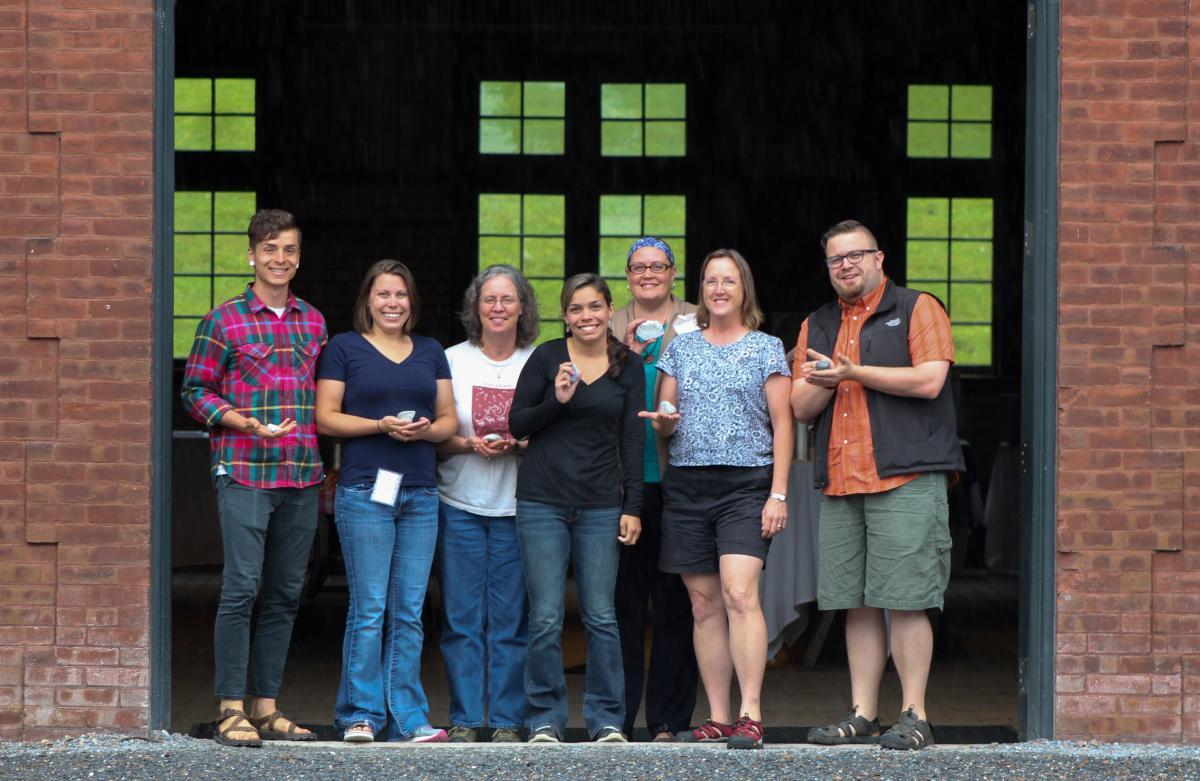 Written and photographed by NOFA Marketing Intern, Serena Baldwin. Originally posted by on NOFA-VT's blog at http://nofavt.org/blog/one-schools-farm-school-journey. Learn more about the Northeast Farm to School Institute here.