October is Farm to School Month
Posted on September 7, 2015
According to the National Farm to School Network, in 2010, Congress designated October as National Farm to School Month "to demonstrate the growing importance of farm to school programs as a means to improve child nutrition, support local economies and educate children about the origins of food." The NFSN has a "cornucopia" of resources to promote Farm to School Month, including promotional material for schools. You can even purchase Farm to School Month stickers and t-shirts! They will also be sharing farm to school stories and information on their blog. Download a 1-page idea and fact sheet.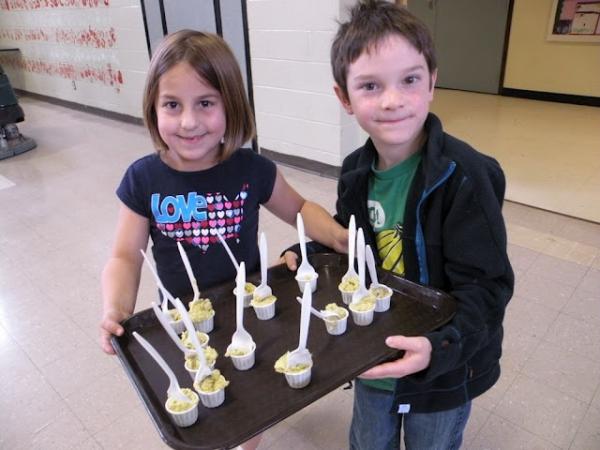 What are YOU doing to celebrate Farm to School Month? How about a taste test?! 
Vermont F2S Month 2015: Try a Bite! Taste Test Mania
The theme in Vermont for this year's F2S Month is Taste Tests. Celebrate F2S Month by conducting a taste test, whether it's your first or 100th! Broaden your students' experiences with a variety of foods and introduce new, locally grown and seasonally available foods.
We would LOVE to see pictures of kids trying new things! Post them directly to our Facebook page and at the end of the month we'll turn them into a wonderful F2S Month slideshow. Please include the school name and location and what foods were tasted. (And please be sure all students in the pictures have media release forms on file.)
Get tips for conducting classroom or cafeteria taste tests, read case studies, and find reproducible handouts in VT FEED's A Guide to Taste Testing Local Food in Schools. and at the Vermont Harvest of the Month website.
Other ways you can promote F2S Month:
Highlight in your community/network what you are currently doing around farm to school through communications, outreach, social media, and other outlets. The more exposure your work gets, the more exposure the movement as a whole receives, and this can garner you more support and participation in your program.
 
Get press coverage of your events and programs. Get the word out that you are doing amazing farm to school activities, projects, curricular enhancements, gardens, and field trips. Local papers love stories about the kids in their communities.

National Farm to School has a wonderful media toolkit with sample press releases, social media posts, and newsletter and blog articles. You can also include the Vermont Farm to School Network message: "We are on our way to reaching our goal: by 2025, 75% of Vermont schools will engage students in integrated food systems education and purchasing 50% local food."

Invite your state or local legislators and school board members to attend your farm to school events or visit your farm to school projects. Again, the more exposure the better, especially for the policy and funding decision-makers. Show them the educational and economic benefits of farm to school! They may be unaware there are FTS initiatives in their own backyard.