Linking the Big Ideas of Food System Education Across the School Community
Posted on January 15, 2020
In Vermont, our farm to school work is showing that these programs can be used as a theme to bring classroom subjects to life through hands-on and place-based learning opportunities. Educators can link their school's "big ideas" throughout all their classrooms in an engaging, exciting way that is relevant to all grades.
But what are "big ideas" anyway? A common phrase among educators, big ideas (or cross-cutting themes), are concepts that apply to all subject areas—be it math, social studies, fine arts—and have lifelong relevancy. Agreed upon collections of big ideas can be shared at the district, school, or even classroom level. For instance, the Big Ideas of Sustainability are the central guiding themes for education at Shelburne Farms. They include "Community," "Systems," and "Fairness and Equity," among more. 
Shelburne Farms' Director of Professional Learning Jen Cirillo describes the purpose and strength of Big Ideas with a prompt to teachers: "Imagine you're at the grocery store 30 years from now. If one of your students were to come up to you in the produce aisle and tell you about ONE thing they remembered that you taught them, it would be these enduring understandings. Those are the ideas that permeate all through a student's formal education and life--not dates or formulas they memorized, but ideas that have stayed with them and continued to have use in their lives."
How do big ideas and farm to school work together? Farm to school can be a lens through which the big ideas are explored in the curriculum and the cafeteria. By pairing the two, the learning is reinforced with hands-on activities and real-world connections that will stick with students for the long-haul.
Vermont FEED recently worked with Cabot School (grades preK-12) toward integrating farm to school into the school's curriculum. Cabot already focuses on sustainability in their curricula, so connecting farm to school to the scaffolding of the Big Ideas of Sustainability was key to their long-term adoption of farm to school. 
For example, fourth grade educators often teach their students about systems (weather, geology, government and civics). "Systems" is also one of the Big Ideas of Sustainability and served as a vehicle for bringing farm to school to the Cabot fourth graders. Vermont FEED educators joined teachers in their classroom to model farm to school activities that explored systems: mapping food miles and discussing local food systems.
"What I love about farm to school is that it has the potential to transform a whole community by thoughtfully connecting students to something so basic and engaging—FOOD!" remarked former classroom teacher and Shelburne Farms educator Aimee Arandia Østensen after her time at Cabot school modelling farm to school activities in preK–12 classrooms. "When you layer that with the Big Ideas of Sustainability, you've got a true grounding in key concepts that will continue to be relevant and useful to our youth as they grow into being leaders and decision-makers in our communities."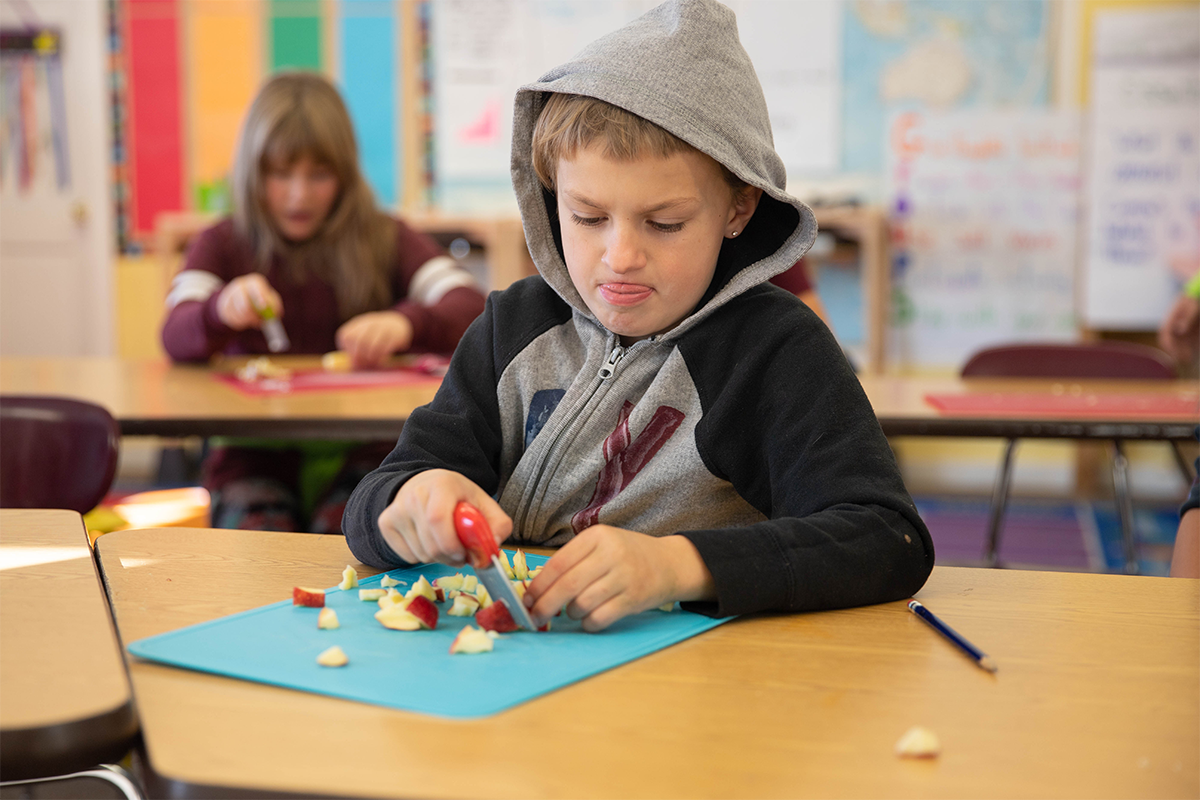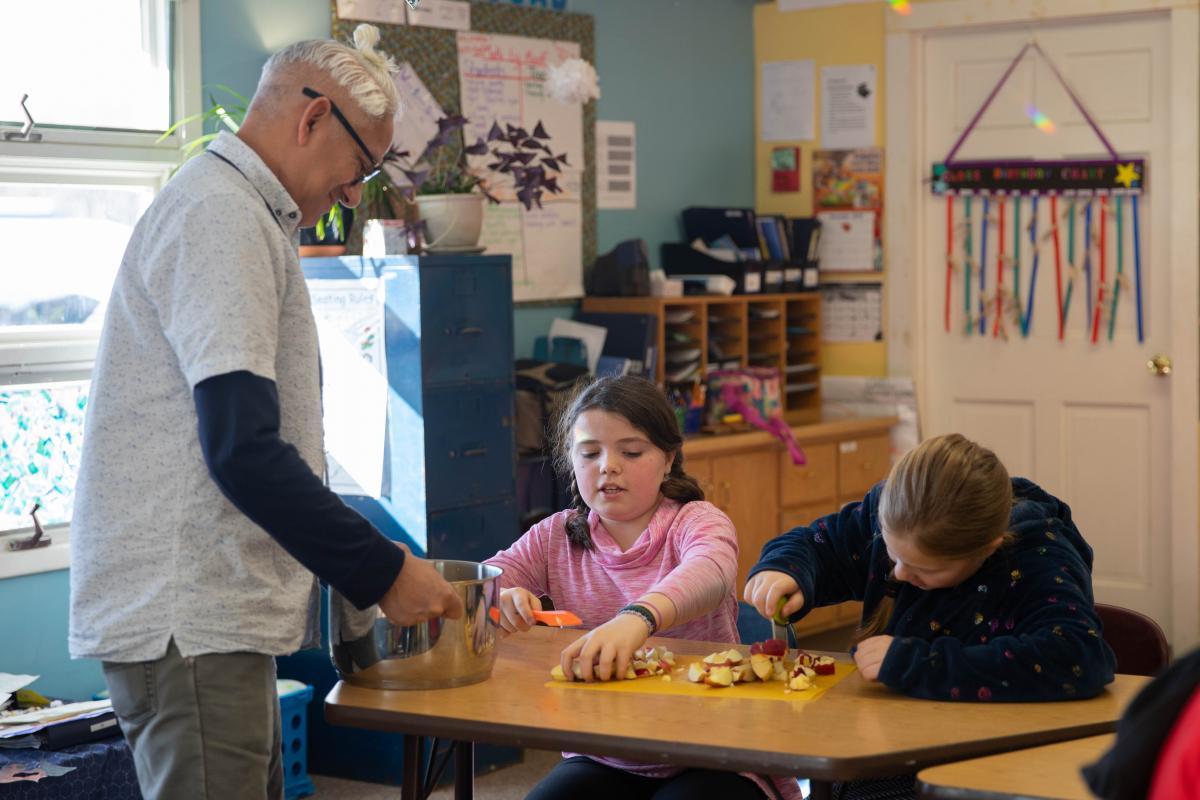 Third and fourth grade students explore "systems" by making applesauce with local ingredients. Students map the food miles of the applesauce they made and a conventional brand and compare the results.
---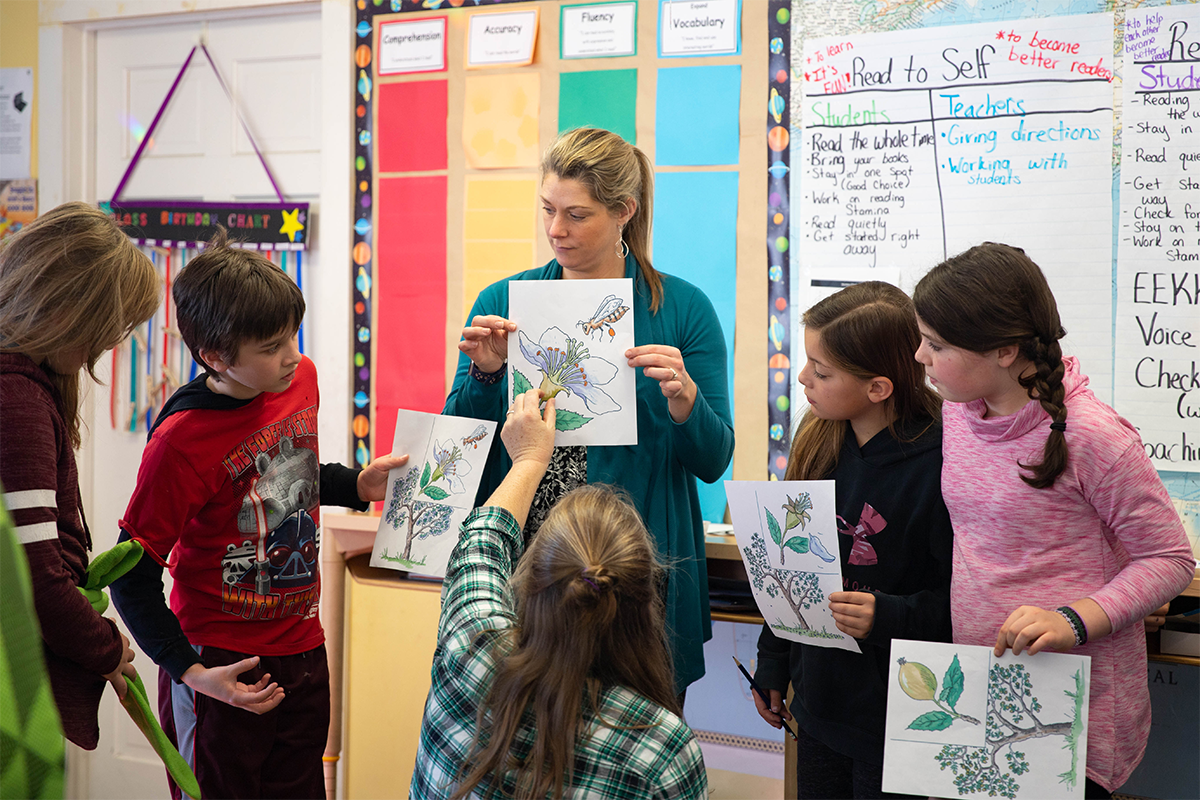 Third and fourth grade students discuss "interdependence" by trying different kinds of local honey, learning about the role of honeybees, and putting pollination cycle cards in chronological order.
---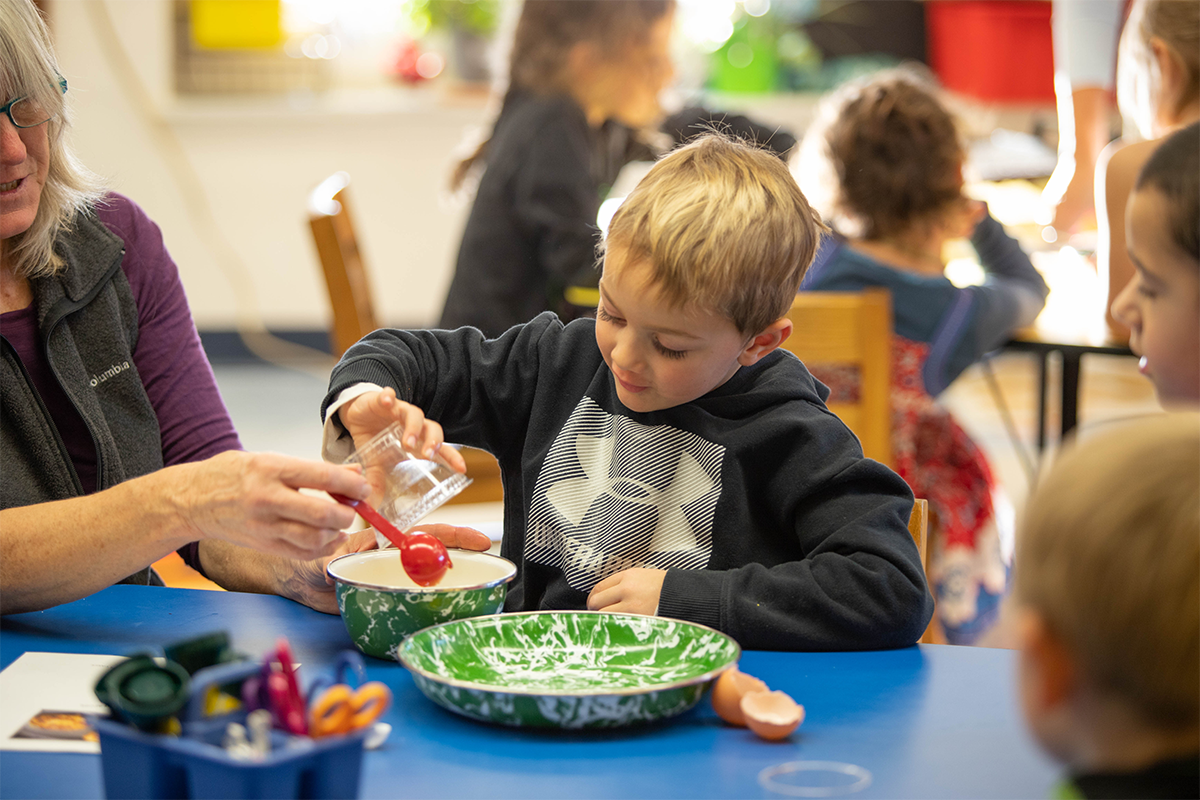 Preschool students learn about seeds, including corn, and discuss how seeds are a plant part of the big idea of "community." Students grind corn and use the meal to make corn cakes to share as a group. 
---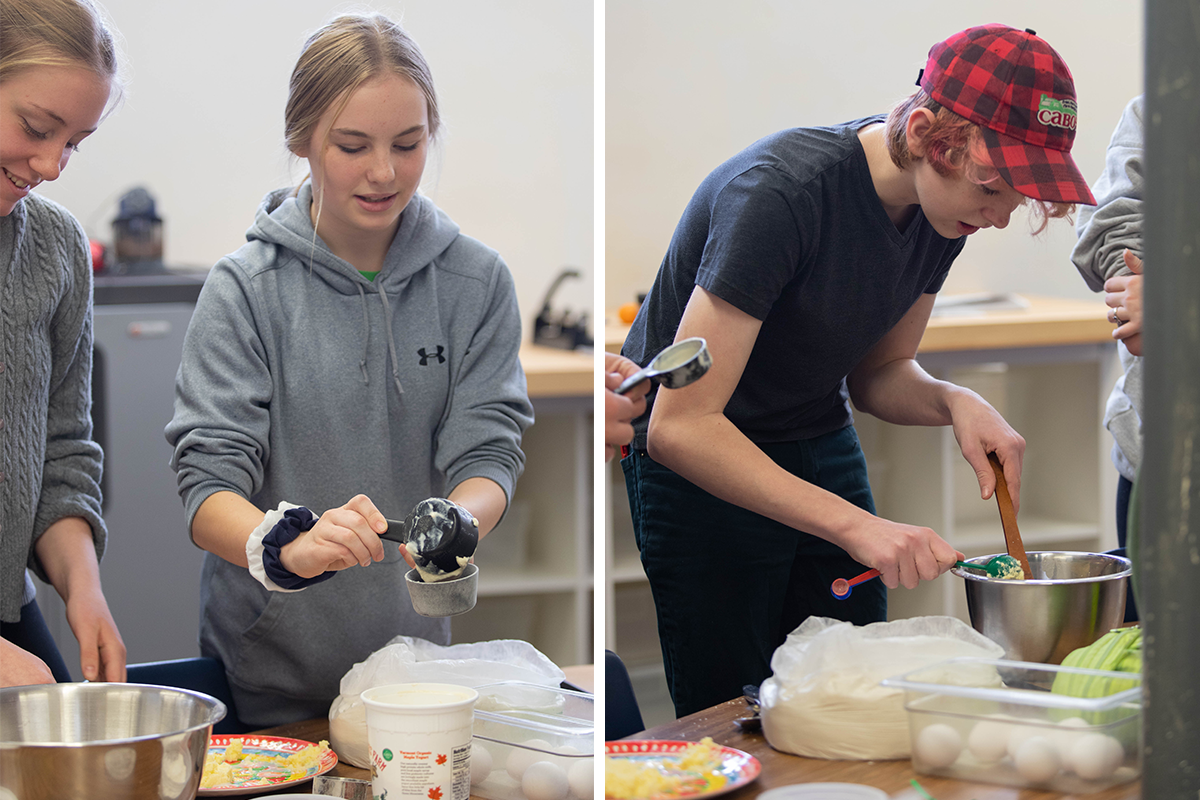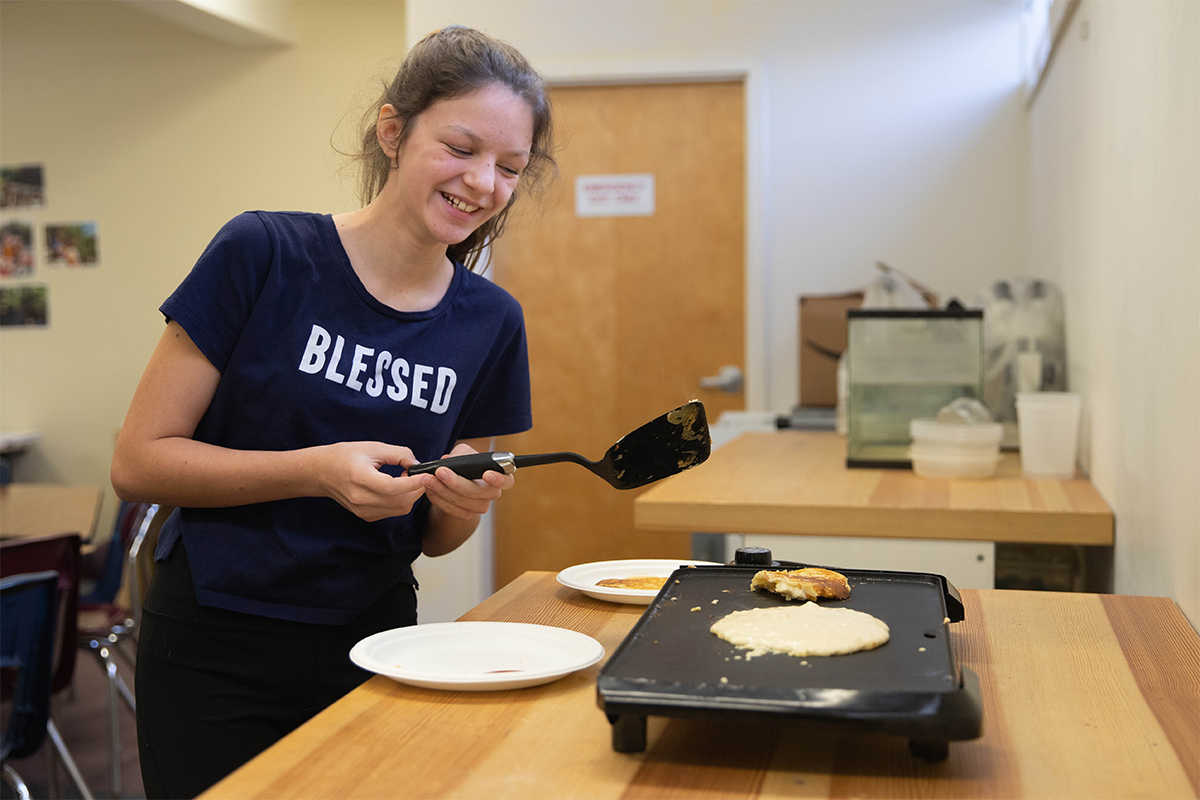 Seventh and eighth grade students make pancakes exclusively from local ingredients and discuss how where we live can affect our food choices, a look into the big idea of "interdependence."
---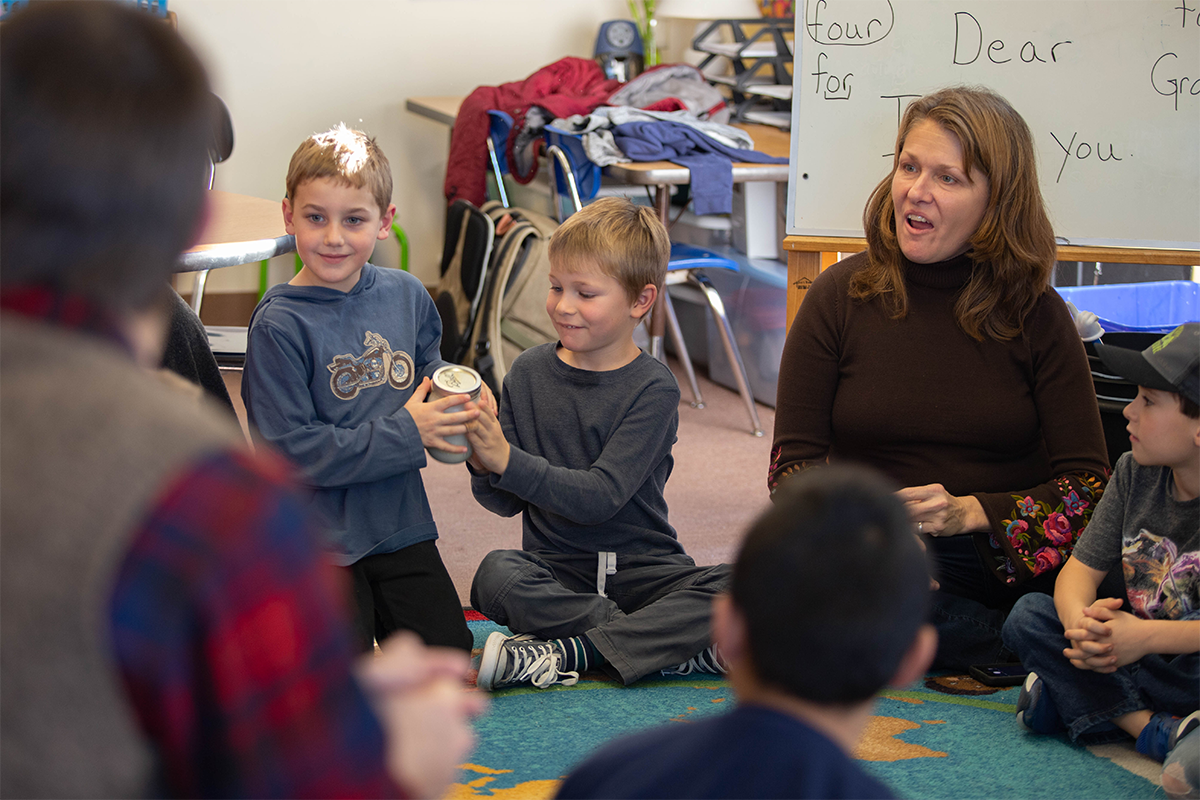 First and second graders learn about the life cycle of a dairy cow and make butter to explore the big idea of "cycles."
---
Resources: The Big Ideas of Sustainability and farm to school programming naturally form strong links when paired in the classroom. We've developed a Farm to School & Big Ideas resource to provide additional information about how they can be paired and explored in grades preK-12.  And if you're a new teacher check out our staff's contribution to the Summer 2019 Kappa Delta Pi New Teacher Advocate. You can download the article separately here.
Vermont FEED supported Cabot School with embedded farm to school professional development as part of the Vermont Farm to School Child Nutrition Grant program.