Growing Farm to Early Childhood Programs
While the Farm to School (FTS) movement began with a focus on grades kindergarten through high school, in more recent years, enthusiasm for this learning even earlier in a child's life has been building. Similar to FTS, Farm to Early Childhood (FTEC) programs enrich young children's health and lives—nearly 22,000 Vermont children under age five receive care outside of their homes during the week—through greater access to nutritious foods and a hands-on approach to learning about food, health, and agriculture. 
Our FTEC educators, Cynthia Greene and Jed Norris, have been working to build a network of early childhood educators who can learn from and support one another in integrating FTEC concepts into their programs. They have been expanding opportunities for early educators, including supporting early childhood teams at the Northeast Farm to School Institute, through the Vermont Farm to School and Early Childhood grant program , and leading courses and workshop series. We asked them how this newer aspect of the Farm to School movement is growing during this time of virtual learning and how it looks different from FTS programming:
A Natural Fit
While the approach of FTS and FTEC have meaningful differences, the goals are the same: to connect kids with the food they eat and the people who grow it through hands-on learning. "Young children are already outside a lot and exploring their world, it's all exploration and hands-on because that's how they learn," explains Cynthia. "There's a real wonder behind where your food comes from at this age," Jed continues. "Young kids have that natural curiosity. It's not too-cool-for-school to like cows and want to be a tractor driver when you're four years old."  
Deep Connections with Families
Within Vermont FEED's 3C Model (building connections between the classroom, cafeteria, and community), "Community" represents the piece that bridges the in-school learning to local people and places: field trips to farms, volunteering at a food shelf, or visiting a local bakery. And families are no less a part of a community than the people who grow, share, and make our food. 
"Families are a primary component of a community, but it extends far beyond that," says Cynthia. "Most early childhood programs provide wraparound services. Families can eat at the centers, take food home, join in on community activities." By building in food and farm learning for students, a program is also extending that learning to the entire family. "Early education has so much access to families," shares Jed. "As a parent, when you have an infant or a toddler, you talk with their teachers about what your kids are eating. Early educators and families are a unit together. It takes a village." 
Supporting Healthy Eating Habits for All Children
If your child is learning about and being fed nutritious foods at their early education setting, it makes a difference.  Ninety percent of the brain is developed by age five, and healthy food is vital to healthy brain development in young children. "Rather than teaching students about tomatoes for the first time at age seven, if you introduce these foods at age two, that child's relationship with healthy eating has four plus years of exposure and depth to it once they enter kindergarten," Jed explains further." And in the scope of our lives, we change more from birth to the age of five than any other time. An early introduction to FTEC can influence a lifetime of healthy eating habits." 
The pandemic has greatly impacted food insecurity rates for Vermonters: nearly 1 in 4 people currently face food insecurity, and the rate increases for households with children, people of color, and women.  Farm to School and Early Childhood programming offers concrete food support and fosters community resilience. 93% of early childhood programs offer at least one snack or meal during program hours, and 56% of early childhood providers are serving local food one or more times per week. "Most early childhood programs offer wraparound services: families will eat at the early childhood centers, they take food home, they do activities in the community together," explains Cynthia.
Going Virtual
Pausing in-person professional development opportunities during the pandemic has not slowed the momentum! "Because we had to go virtual, we've moved from hands-on learning to interactive workshops using the technology we have at our disposal: digital white boards, group polling, breakout rooms, or applying our typical protocols to an online platform."  
Cynthia and Jed typically use the virtual workshop time together to network, have group discussions, and offer time for participants to share and gather feedback on one another's projects. The asynchronous time (time outside of the workshop hours) is devoted to review resources. "I've made a lot of videos of the classic FTEC activities with my own kids to show the group," Jed explains. "You can read how to do an activity, but there's something about seeing somebody do it, singing the song, to show the spirit of it."
"In early childhood education, at least in my experience, you work all day, long weeks, and the last thing you want to do is go home and research something without a good place to start from," Cynthia remembers. "We've found podcasts, we've found TED talks, we've made videos… We've tried to mix up mediums for educators to review."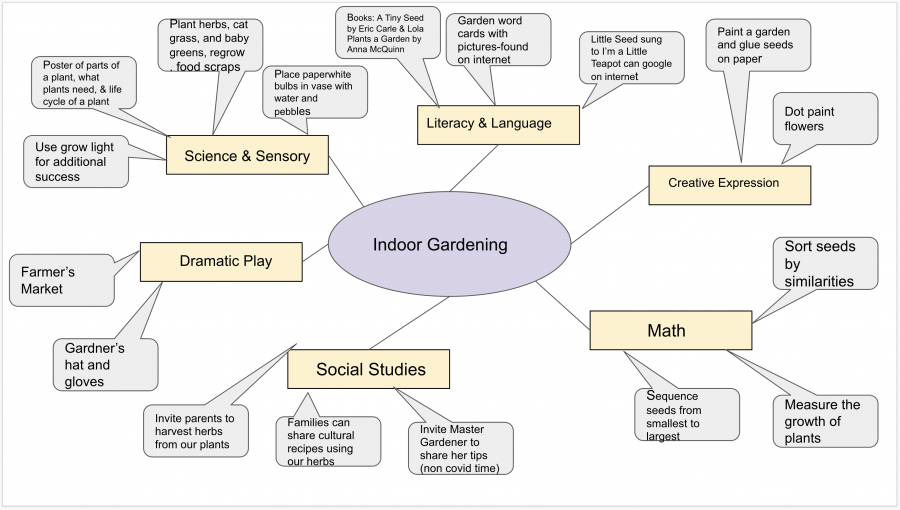 Above: a virtual Curriculum Planning Web that supports intentionally embedded FTEC into new or pre-existing activities and learning topics.
The joy that results from the connections and relationships that the FTEC workshops offer — in-person or virtual — is a testament to the importance of this work and the dedication of the early educators.  Cynthia concludes, "Jed and I have been doing this for the last several years, and some early childhood providers who have been in the field for a long time have said, 'Oh my gosh this workshop changed my whole outlook on curriculum and teaching and totally invigorated what I wanted to do!' Their joy is palpable."
We're excited to announce that Vermont is one of 10 states and the District of Columbia to be awarded $90,900 each to strengthen state-level Farm to Early Childhood  (FTEC) initiatives for a one-year project period.  This opportunity is supported by the Association of State Public Health Nutritionists and CDC of the U.S. Department of Health and Human Services (HHS). Read more.