Feeding Kids During a Pandemic: Maureen O'Neil, Abbey Group Food Service Director at SVSU
Posted on August 20, 2020
The COVID-19 crisis has shone a light, like never before, on the incredible work done by school nutrition staff. When schools closed their doors, they had less than a week to completely reimagine their distribution models, and throughout the spring and summer, these meal programs were a critical support system for Vermont families. 
Now, they're transitioning their programs once again to face the many unknowns regarding the 2020-21 school year. Vermont FEED is honored to share voices from the frontline school nutrition programs. This month, we spoke with Maureen O'Neil, from The Abbey Group. She is the Food Service Director for the Southwest Vermont Supervisory Union, serving the towns of Bennington, Pownal, Shaftsbury, and Woodford. She shared with us how they are  adapting, keeping kids nourished, and dreaming big during these unprecedented times.
What does summer meal service look like this year? How has your program had to pivot from traditional summer programming?
The year, for summer meals, we offered pick-up service at the Mt. Anthony Union Middle School campus. We were serving approximately 250-300 meals a day this summer. For comparison's sake, during the emergency feeding this spring, we were serving around 500 pick-up meals a day at the middle school. We initially thought that we would continue at that number throughout the summer, though participation has been lower for the summer program.
Why do you think that might be?
There was a lot of support for families around this summer. People were getting the extra $600 for unemployment. The Pandemic-EBT cards came out in late June, the Foodbank's VeggieVanGo program, and of course there was the Farmers to Family Food Box Program. There was a ton of food around. People really weren't hurting for meals as much this summer as opposed to earlier in the pandemic when folks couldn't even go to the store. This spring, families were so appreciative to go to their bus stop for a food delivery. And they were still in their school year routine. They really looked forward to the bus delivering meals. It was like a sense of normalcy for the kids. So I think that that helped a lot. We served 230,691 meals from March 18-June 12! Which is actually more than what we would've done if school were in session in the building. We sent out weekend meals too. We were preparing and serving 3,000 meals a day on some days. It was crazy.
Can you share any stories  about creative ways that your team has come together to solve problems either this summer or last spring during the emergency closures?
Under normal circumstances, we're a big program and a well-oiled machine. But when the pandemic started, those first three weeks were a nightmare. You didn't know likely participation numbers, you didn't know how the bus deliveries would work. The fact that we could work together as a team to get past that, and then become a well-oiled machine again was great. Everybody worked well together. The Supervisory Union sent us a lot of volunteers who would come in on Fridays to help us pack the meals. Even during the week, there were a few volunteers that came in every day to help send out the meals on the bus. So, I think going from a nightmare early on to that well-oiled machine was incredible to the staff. It was all of us together. I'm very proud of our team, everybody is here because they care about our kids. 
We're going back to remote learning this upcoming month, and we learned a lot in the spring. We learned it's really hard to load buses. If they use the ADA compliant buses, the seats are wider and farther apart. So you could put the coolers in easier. Our maintenance crew here is amazing. They came up with this way to have the trucks back into our loading dock and they built a ramp so that actually you walk up instead of trying to hand it up. And the seats are so narrow - it's a backbreaking job. We couldn't have done it without the maintenance team.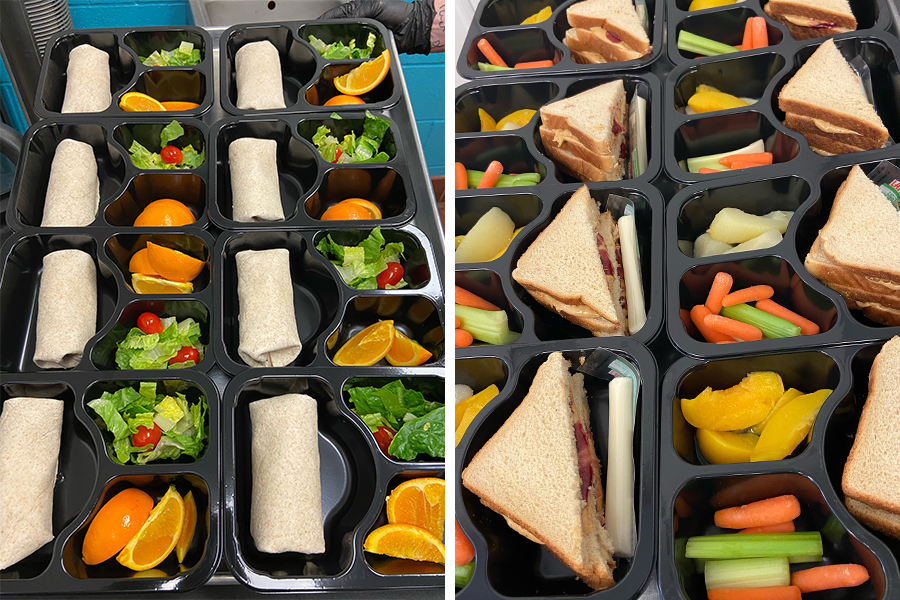 What are some of your favorite new menu items or ideas that have come about as a result of all this?
During the weekdays, not knowing if kids' family members were home, we stuck to cold food: nice salads, Italian grinders, flatbreads. Things like that. But then on the weekends we could do things that they have to heat up and little bit with parents. Like even a simple thing, like frank and beans. Liz Strassman, the Sustainability teacher at the middle school, is  hosting a virtual cooking series for the families. This week, we are demonstrating an easy meal, Mexican chicken. We cook rice and put the chicken on top with some salsa, and add melted cheese and a black bean and corn salad. We're going to film that for the school families and put out recipe cards. Even if you only have a microwave at home, you could do it.
Can you share a little bit about the Farmers to Family Food Box Program and how that's worked in your region this spring and summer?
Wow. I can't believe the food - the cheese and chicken was amazing. I mean, amazing things from Maple Brook and Shelburne Farms and gallons of milk. That can sustain a family for a couple of weeks easily. It's very well organized with the National Guard.

Are there any other community relationships or partnerships that have really helped you weather this storm as you've navigated all of the twists and turns of the last few months?
The Supervisory Union was really honed in. And the Agency Of Education Child Nutrition Programs team was great. They'd answer any questions you have, and they were really trying to be as flexible as USDA allowed them to be. They really supported us and tried to help to make it work.
In light of this crisis, or even before it, what are some of your big dreams for your program and what would you like to see on the other end of all of this? 
My dream is to have a food truck. It's something we've always wanted for our district. I think for summer meals in particular, we'd be able to reach further than what we can do now. We always have issues with that — reaching everyone. There are some very rural areas here in Bennington County that are not getting meals in the summer, even with summer programs, they're not being served yet.