January Recipe: Vegetable Chinese Dumplings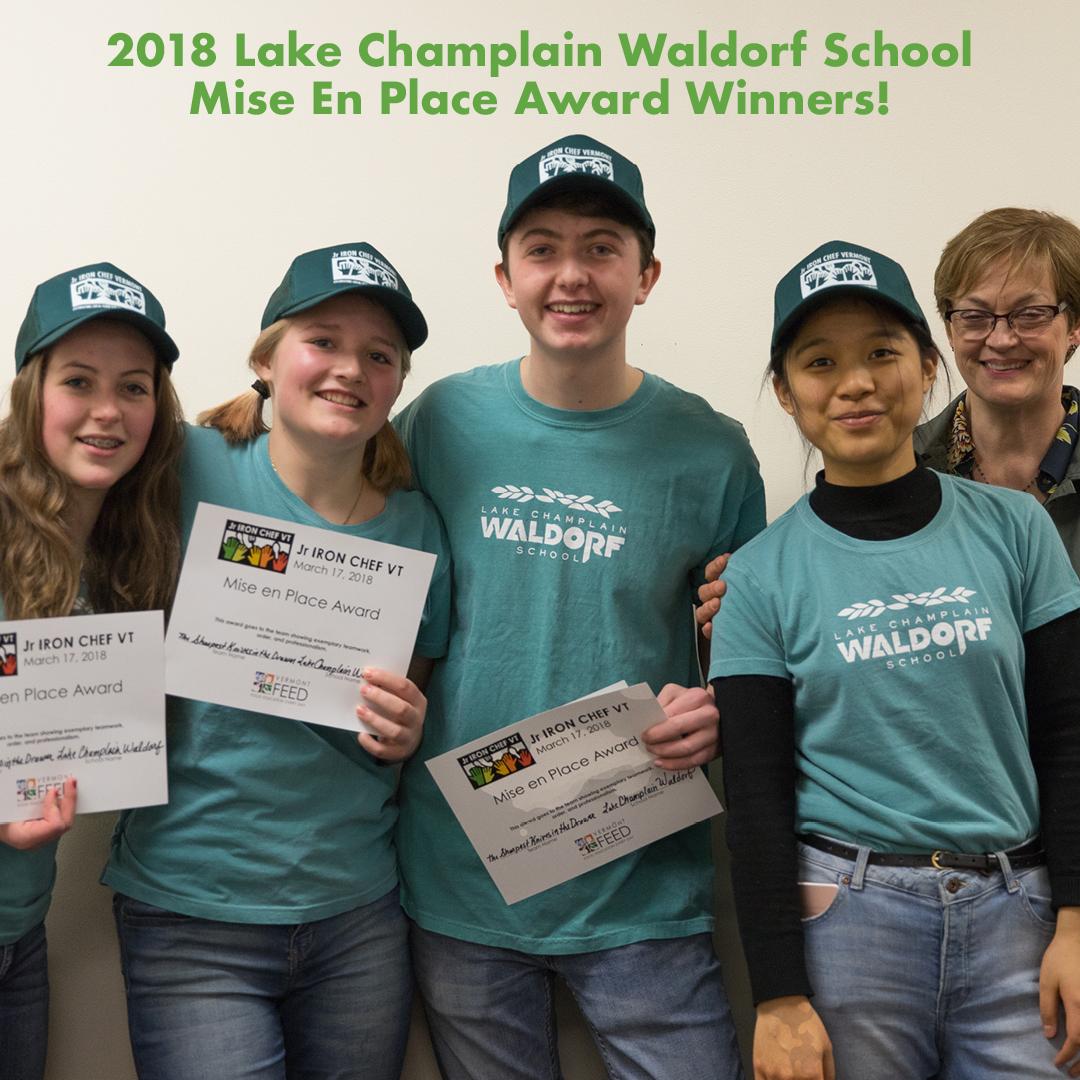 The 2018 High School Lake Champlain Waldorf Team accepting their Mise en Place award.
January's recipe challenge has officially closed, but this dish is always a delicious meal option. Find our current recipe challenge on our homepage. Sign up for the Cooking Club mailing list to get the monthly recipe announcement in your inbox.
Congratulations to the winning youth chefs and programs: King Street Center, Keldon F., Hailey C., Colton C. Greta K.!
---
We're back with the second recipe challenge of the Jr Iron Chef VT Cooking Club: Lake Champlain Waldorf School's 2018 High School Mise en Place award-winning recipe: Vegetable Chinese Dumplings! This winning recipe is a tried and true family favorite of one former Jr Iron Chef VT student chef. The combination of homemade dumpling wrappers, delicious filling, and unique sauce made this recipe really stand out.
Every year, Jr Iron Chef VT reviews dozens of amazing student-created recipes prior to the competition. When we see an opportunity to take the recipe to the next level, we share our feedback: from suggesting adding local ingredients, to going the extra mile to make an element from scratch. For example, when we receive a dumpling recipe submission, we'll suggest the team make their own wrappers. Though making homemade dough may sound like a daunting task, you'd be surprised at how uncomplicated it can be! The ingredients are simple, and the effort is minimal. The result: a delicious dough with a thick, chewy texture. We're sure having the confidence and know-how to make your own dumpling wrappers will be a favorite lifelong skill you'll enjoy sharing with your friends and family.
This dumpling recipe was revisited by the student chefs with Honey Road Chef/Owner Cara Chigazola Tobin in February 2019 for the Jr Iron Chef VT Benefit Grazing Dinner. With the guidance of Chef Chigazola Tobin, the teen chefs took their award-winning recipe to the next level and shared their creation with their community to raise money for our program.
Sign up for the Cooking Club mailing list to get monthly recipe challenge launches in your inbox. Enjoy making this delicious meal, and be sure to share your creations with us using the form below. Your submission is due by Sunday, January 31 to be in the running for one of five culinary prize packages (details to come — packages will be delivered in early February).
---
Yield: 24 dumplings
Time: 20 minutes prep, 45 minutes for resting dough, 25 minutes cooking
Ingredients
*denotes ingredients that may be sourced locally
For the dumpling wrappers
*2 cups unbleached all-purpose flour
1/8 tsp salt
½ - 1 cup warm water
Filling
*1 cup carrots, finely chopped or shredded
1 Tbsp fresh ginger, peeled, minced
*1 cup mushrooms, finely chopped (baby bella, shiitake, button)
*1 cup Napa cabbage or regular cabbage, chopped
1 cup mung bean sprouts, chopped
*4 scallions, white parts, finely sliced, saving the green tops for garnish
1–2 tsp toasted sesame oil
*2 eggs, lightly beaten
2 tsp sea salt
Sauce
3 Tbsp soy or tamari sauce
1 Tbsp toasted sesame oil
1 ½ Tbsp rice vinegar
1 Tbsp tahini
Green scallion tops, thinly sliced (optional)
1 tsp chili oil (optional)
Cooking
4-6 Tbsp neutral oil for high-heat frying (peanut or canola oil)
Water
PREPARATION
Step 1: Dumpling dough
1a. Place all of the flour and the salt in a medium bowl. Add the water a little at a time, mixing constantly with your hands until a stiff dough forms.
1b. Knead the dough until smooth, 5–10 minutes. This kneading step is important; it helps develop tender dumpling wrappers.
1c. Put the kneaded dough into a clean bowl and cover it with a damp towel. Let the dough rest in a warm place for 45 minuntes to 2 hours. Dough may rest up to 5 hours.
Step 2: Dumpling filling
2a. Place cabbage into a bowl and add ½ tsp of sea salt. Massage the salt and cabbage well with fingers. Let sit for 10 minutes. Drain and rinse the cabbage, squeeze well to remove all of the water.
2b. Beat the eggs with ½ teaspoon of salt. Heat a non-stick pan to medium heat and add the eggs. Turn heat down to medium-low and scramble eggs until fully cooked. Set aside.
2c. Heat oil in a large skillet over medium heat. Add ginger and cook for 30 seconds until fragrant. Add the mushrooms and stir-fry for 3–5 minutes until the mushrooms are tender and release their liquid. Add the carrots, cabbage, scallions and beansprouts. Stir-fry for another 2 minutes, until the vegetables are tender and all the liquid is cooked off. Transfer mixture to a large bowl, adding the scrambled eggs and sesame oil. Mix well and add salt or soy sauce to taste.
Step 3: Roll the wrappers
3a. Knead the dough again for 3–5 min and cut it into four roughly even pieces.
3b. Roll each piece into a 1-inch diameter snake (roughly 8 inches long). Cut into ¾ inch pieces. Let the dough snakes rest in a bowl covered with a damp tea towel while you roll out the wrappers.
3c. To roll the dumpling wrappers, dust your countertop lightly with flour. Roll each piece into a ball.
3d. Keep the dough you're not working with covered. Roll one ball at a time into a thin disc roughly 3½-inch in diameter. Do not stack your rolled-out disks as they will stick together.
Step 4: Fill and seal the dumplings
4a. Holding the dumpling wrapper in one hand, place 1 Tbsp of filling in the center of the rolled-out round of dough, making sure to not overfill.
4b. If your wrapper seems dry, dip a finger into some water and lightly moisten the edge of the top half of the circular wrapper.
4c. Fold the wrapper in half around the filling and pinch the top of the half circle together.
4d. Continue sealing the edges, either by simply pressing or by using a ruffling technique. Be sure to pinch the seam tightly to seal the filling inside.
4e. Place the shaped dumpling, seam side standing straight up, on a parchment or wax paper lined platter.
4f. Working quickly so that the dumpling wrappers don't dry out, continue with remaining cut dough. Either freeze or cook your dumplings within 30 minutes of filling so the wrappers don't dry out too much.
Step 5: Cook the dumplings & make the sauce
5a. While the dumplings cook, mix all sauce ingredients and scallion tops together in a small bowl. Set aside to serve with dumplings.
5b. Heat enough oil to coat the bottom of a nonstick skillet with a tight-fitting lid over medium high heat.
5c. Once the oil is hot, place the dumplings into the skillet, seam side standing straight up, being sure that they are close but not touching. Cook about 8–10 dumplings per batch, depending on your pan size.
5d. Let the dumplings sear uncovered for 1–2 minutes until the bottoms start to turn golden, watching that they don't burn. Turn heat down if it seems they are cooking too quickly.
5e. Add 3–4 Tbsp of water to the skillet. Be careful, adding the water to hot oil will cause the oil to splatter, keep cover near by. Cover the pan immediately and reduce the heat to low. Steam the dumplings until all the water has evaporated. The dumplings should look opaque and noodle-like, and the filling should be heated through. This will take 3–5 minutes from fresh or 6–7 minutes from frozen.
5f. Remove the lid and flip one dumpling over to see if the bottom side is nicely golden. If it isn't, turn the heat to medium high, and cook until the bottoms of the dumplings are golden brown and crisp.
5g. Transfer the dumplings to a plate and serve immediately with dipping sauce.
nOTES
*This recipe has been edited down from the original version to home-cooking portions.
*Homemade dumpling wrappers are great, however, if you don't have the time, you may use pre-made dumpling or wonton wrappers. Wonton wrappers will give you a different texture and may be best steamed, follow package instructions.
*Mung bean sprouts are one of the most popular vegetables in East Asian cooking! They have a crunchy texture and sweet, mild taste. You can usually find them pre-bagged in your local grocery store. Be sure to keep them refrigerated, and rinse them well before use.
*If you can't find Napa cabbage or would like an alternative, you can substitute equal amounts of baby bok choy (the tender little green ones) or green cabbage (which will take longer to break down).
*Tahini is a paste made from sesame seeds, typically used in Middle Eastern and Mediterranean cuisines and is used in sweet and savory dishes, most notably in hummus. If you are unable to find tahini you may substitute peanut or another nut butter. You may also leave it out of the sauce entirely.
*Not a mushroom fan? Leave them out.
*Don't want to use eggs? You can leave the eggs out, however you will have a different texture. As an alternative, try crumbling in some pressed, firm tofu.
*Dumplings freeze well if you'd like to save some for later. To freeze, line dumplings on a baking sheet or tray lined with parchment or waxed paper, taking care that the dumplings don't touch one another. Freeze for a few hours until the outsides of the dumplings are frozen. Remove the frozen dumplings from the tray and store them in a freezer bag for up to 3 months. Cook the frozen dumplings the same way you would cook the fresh dumplings, they will just take a few minutes longer.