December Recipe: Green Curry with Vermont Vegetables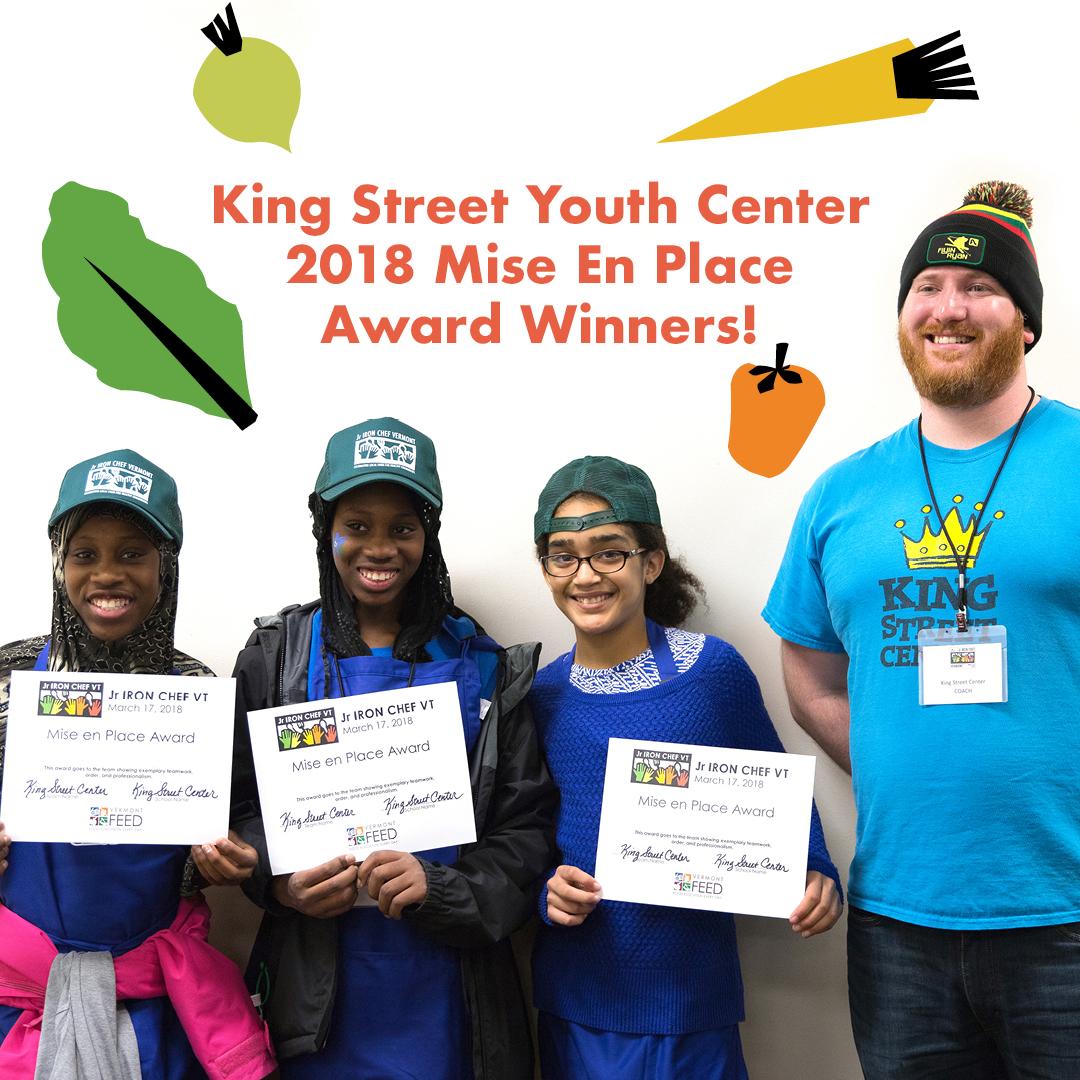 The 2018 Middle School King Street Center Team accepting their Mise en Place award.
December's recipe challenge has officially closed, but this dish is always a healthy, delicious meal option. Find our current recipe challenge on our homepage. Sign up for the Cooking Club mailing list to get the monthly recipe announcement in your inbox.
Congratulations to the winning youth chefs:  Beatrice G., Emilie & Lily B., Layla F., Thomas S., and August S.!
---
We're kicking off the Jr Iron Chef VT Cooking Club with a recipe from the King Street Youth Center's 2018 middle school team: Green Curry with Vermont Vegetables! The team won for their bold flavors and the teen chefs' exemplary teamwork, order, and professionalism. The team reformed in February 2019 to reimagine the recipe with Great Northern Chef and Owner Frank Pace for the Jr Iron Chef VT Benefit Grazing Dinner. With the guidance of Chef Pace, the teen chefs took their award-winning recipe to the next level and shared their creation with their community to raise money for our program.
Sign up for the Cooking Club mailing list to get monthly recipe challenge launches in your inbox.
Enjoy making this delicious meal, and be sure to share your creations with us using the form below. Your submission is due by January 4, 2021 to be in the running for one of five culinary prize packages (details to come — packages will be delivered in early January).
---
Yield: 4-6 servings
Time: 1 hour
Ingredients
For the curry
1 13.5 ounce can coconut milk 
2 Tbsp coconut oil
2 Tbsp soy sauce or tamari
2 Tbsp rice vinegar
1 Tbsp sugar
2–3 Tbsp Thai green curry paste*
1 large onion, diced, ½ inch
1 bell pepper, diced, ½ inch
3 carrots, peeled and sliced into ¼-inch wide rounds 
1 medium sweet potato, diced, ½ inch
2 potatoes, diced, ½ inch
1-2 heads bok choy or baby bok choy, bottoms sliced thin, tops chopped
2-3 Makrut lime leaves or substitute with extra lime zest
Handful of leaves basil, torn
Juice and zest of one lime
For the rice
2 ¾ cups water
1½ cups jasmine rice
¾ tsp salt
Preparation
Step 1
Rinse rice until water runs clear. Bring 2 ¾ cups of water to a boil in a medium saucepan, add rinsed rice and ¾ teaspoon salt; cover with a tight fitting lid and reduce heat to low. Cook until all liquid is absorbed, around 15 minutes. If rice is too al dente for your taste, add a few tablespoons of water to steam while the pot is turned off. Keep covered and let rest 10–15 minutes. Fluff rice prior to serving.
Step 2
Heat coconut oil in a stock pot over medium-low heat; add curry paste and Makrut lime leaf. Stir until ingredients are combined. Add the chopped onion, bell pepper, carrot, sweet potato, and potato and 1 tablespoon of salt. Sauté on medium heat for 8–10 minutes until vegetable edges start to lightly brown, without burning. 
Step 3
Combine coconut milk, soy sauce, rice vinegar, sugar, and lime zest; add to the vegetables in the stockpot. Gently simmer, until the vegetables are tender, about 10–12 minutes and sauce begins to reduce. Add baby bok choy bottoms and leafy tops and a squeeze of lime juice to taste. Adjust seasoning with salt and pepper, gently simmer for a few more minutes. Add a ¼ cup water if the curry gets too thick.
Step 4
Season to taste. Serve curry over rice in a bowl. Garnish with torn fresh basil and a wedge of lime.
Notes
*Thai green curry paste is a flavorful blend of lemongrass, ginger, lemon peel, and fresh green chili. Look for this in the Asian section of the grocery store. Please check the ingredients if seeking vegan or gluten free as some brands may contain shrimp.
*Makrut lime leaves are an essential part of Thai cuisine, as well as other Southeast Asian dishes. The leaves have a strong lemon/lime  aroma and flavor. They are available fresh, frozen, jarred, and dried. Please remove before serving.
*Baby bok choy stalks hide dirt like celery, so be sure to wash the bulbs well by halving or quartering length wise. Either swish them around in a bowl of water or run clean them under running water to thoroughly remove the grit.
Make it your own —we encourage you to get creative! Feel free to substitute ingredients.
Don't have green curry paste? Substitute 1–2 Tbsp curry powder. 
Don't like sweet potatoes or any other ingredient? Leave it out. 
Can't find Makrut lime leaves? Use extra lime and or lemon zest and juice. 
Can't find baby bok choy? Leave it out or add a few handfuls of fresh or frozen spinach at the same step.
Want to add some protein? Add some tofu or cooked chicken.