February Recipe: Vegetable Pot Pie with Mashed Potatoes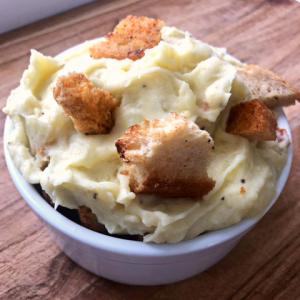 Feburary's recipe challenge has officially closed, but this dish is always a delicious meal option. Find our current recipe challenge on our homepage. Sign up for the Cooking Club mailing list to get monthly recipe challenge launches in your inbox.
Congratulations to this month's winners: Arthur E., Abbie M., Duncan S., and Keira M.!
---
In the 2017 competition, coach Christian Kruse, Executive Chef of Black Flannel, helped the Mise en Place award-winning Vergennes Union High School Team showcase some of Vermont's best winter root vegetables. Don't let the celery root and parsnips intimidate you if you've never tried them. You'll be surprised at how easy these readily available savory roots are to prepare. You'll soon discover the sweet complexity and earthy, nutty flavor they add to this satisfying dish. 
This recipe was a big hit when the team prepared it in the Vermont State House cafeteria while attending the Jr Iron Chef VT resolution reading in 2018!
Share your creations with us using the form below. Your submission is due February 28, 2021 to be in the running for one of five culinary prize packages (to be delivered in early March).
---
Yield: 4-6 servings
Time: 50 minutes
Ingredients
*  denotes ingredients that may be sourced locally in winter months
Pot Pie Filling
2 Tbsp olive oil
3 medium parsnips, peeled and cut into ½-inch cubes*
4 medium carrots, peeled and cut into ½-inch cubes*
1 medium celery root, peeled and cut into ½-inch cubes*
1 medium to large yellow onion, diced*
4 cups vegetable or chicken stock (store bought or homemade)
3 Tbsp cornstarch/ 3 Tbsp cold water slurry
Salt and pepper, to taste
Topping – Croutons
4 cups cubed bread (about 6 slices)*
4 Tbsp butter, melted*
2 tsp parmesan cheese, grated 
2 tsp garlic powder
Salt and pepper, to taste
Topping – Mashed Potatoes
3 russet or golden potatoes, peeled and cut into large chunks*
Salt and pepper, to taste
¼ to ⅓ cup hot milk*
2 Tbsp unsalted butter*
⅓ cup finely chopped parsley (optional)*
2 scallions, finely chopped, including some of the green part (optional)*
1½ cups grated sharp cheddar*
PREPARATION
Step 1: Crouton Topping   
1a. Preheat oven to 375 degrees
1b.Toss the bread cubes in a bowl with the melted butter, parmesan and garlic powder. Season to taste with salt and pepper.
1c. Place croutons onto a rimmed baking sheet and spread out somewhat spaced apart.
1d. Bake on the middle rack, tossing croutons halfway through to encourage even browning. Bake until they are golden brown and crispy - about 10-15 minute. Let cool. Season with salt and pepper to taste. Set aside. 
Step 2: Mashed Potato Topping 
While the croutons are baking, make your mashed potato topping
2a. In a large saucepan, add the potatoes, a generous pinch of salt, and enough cold water to cover the potatoes. Bring to a boil, lower the heat, and simmer for 15 minutes, or until the potatoes are tender when pierced with a fork.
2b. Drain the potatoes and return them to the saucepan. Stir over low heat for 1 minute to dry them slightly. With a potato masher, mash the potatoes while slowly adding the hot milk. Add the butter. Stir in the cheddar, parsley and scallions (if using). Beat vigorously with a wire whisk until fluffy. Add more milk, if necessary, to reach a creamy consistency
Step 3: Pot Pie Filling 
3a. Heat 2 tablespoons of olive oil in a large, deep and wide saucepan or pot over medium-high heat. Add the onions and sauté until onions are tender and translucent, about 3 minutes. Add the parsnips, carrots, celery root. Cook, occasionally stirring until the vegetables start to brown, about 7-10 minutes. Add the stock and continue to cook until the vegetables are tender, about 5-7 more minutes.  Remove the vegetables with a slotted spoon and transfer to a serving dish or individual ramekins.
3b. Thicken remaining stock with the cornstarch slurry until a gravy-like consistency is reached Add salt and pepper, to taste. Pour the sauce over the vegetables in the casserole dish or ramekins. Spoon croutons and mashed potatoes over the vegetables, garnish with a few extra croutons and serve.
NOTES + TIPS
*This recipe has been edited from the original version to home-cooking portions.
*Celery root (AKA celeriac) is a variety of celery that tastes like a combination of parsnip, celery, and potato. This versatile root vegetable can be enjoyed in both hot and cold dishes. To clean celery root, safely cut off the bottom and the top of the root. Use a paring knife to cut off the thick, knobby skin. Give it a good rinse and pat dry. Slice the root in half, then wide matchsticks and cut into cubes. Give it a taste in raw form and discover its pleasantly crunchy texture and mild flavor. Take notice after you cook the celery root at how sweet it becomes.
*Parsnips may look like a pale carrot, but they are much sweeter than their orange cousin. Both carrots and parsnips are in the Umbelliferae family, which also includes celery, parsley, chervil, fennel and celeriac. Fun fact: before sugar cane, beets, and honey were widely available, early Europeans grew parsnips to make sweetener!
*Don't forget to compost! Have someone in your house join the fun and help with the root vegetable peeling and dicing. Once you've peeled all of your vegetables, this recipe comes together quickly. You'll find the vegetable prep will leave you with a nice pile of peels which are garden gold, so don't forget to compost your scraps.