April Recipe: Very Veggie Enchiladas with Homemade Sweet Potato Tortillas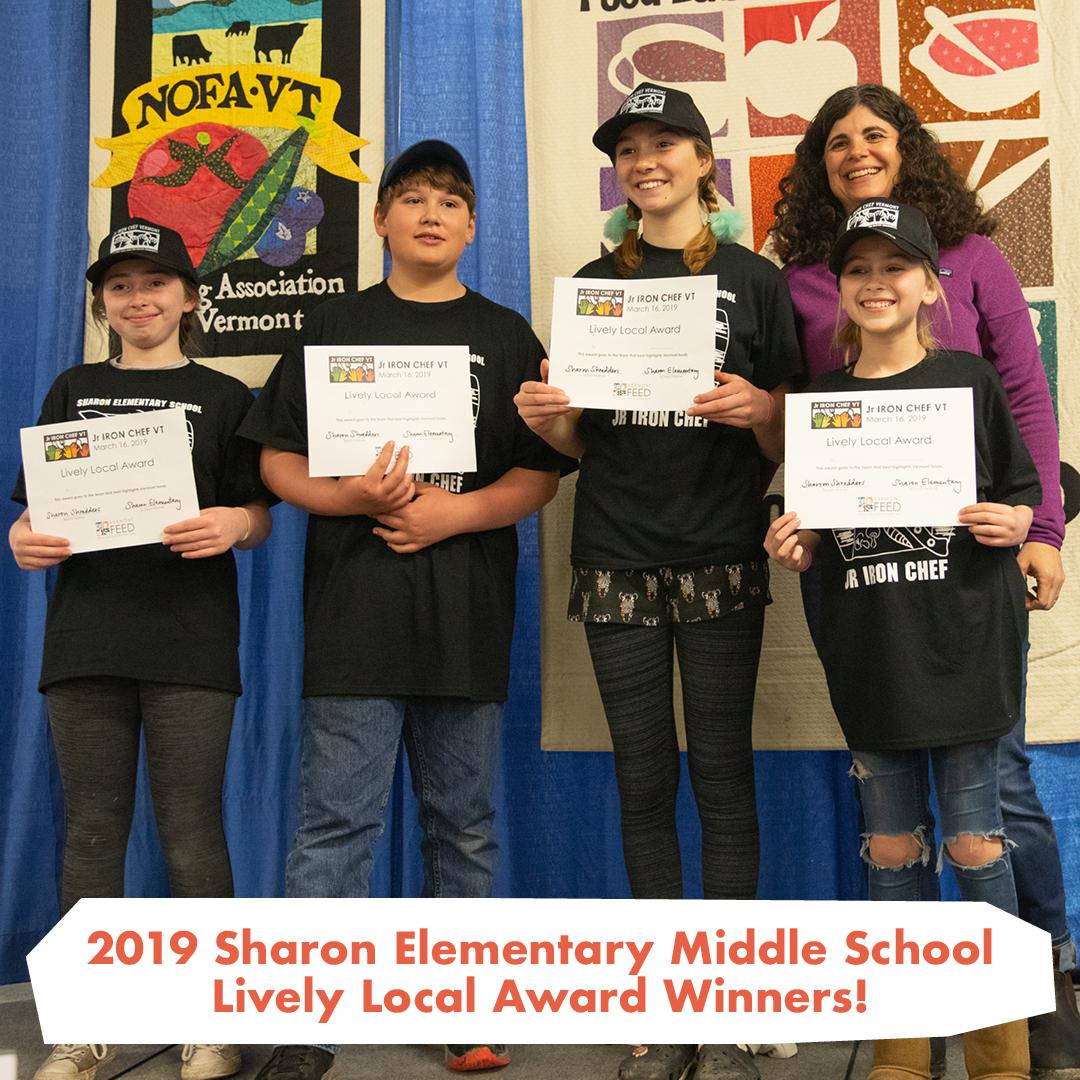 This recipe harmonizes a rainbow of Vermont vegetables enrobed by a soft, chewy, and sweet handmade Vermont sweet potato tortilla, finished with a flavorful homemade sauce with Vermont cheddar cheese. It's easy to understand how the Sharon Elementary Middle School team's effort stood out and won a 2019 Lively Local Award with this recipe!
Feel free to experiment and add your own ingredients. While the broccoli and cheddar cheese pack these enchiladas with plenty of protein, corn, black beans, or cooked chicken would be a great addition, too.
If cooking with a family or group, divide up the tasks — don't be intimidated by the list of ingredients and steps. The reicpe comes together quickly once everything is prepped. You may also opt to use store bought flour or corn tortillas if pressed for time. If you're using store-bought tortillas, save this recipe for another time to savor the homemade version as a snack on their own. They are versatile and outstanding.
Share your creations with us using the form below. Your submission is due Sunday, April 25 to be in the running for one of five culinary prize packages (to be delivered in early May).
---
Yield: 4 servings
EQUIPMENT
13 x 9" baking dish
rolling Pin
large sauté pan
medium cooking pot
medium sized bowl
larger spoon or potato masher
chef's knife or paring knife
vegetable peeler
2 medium sized mixing bowls
plate
kitchen towel
whisk
cutting Board
Ingredients
* denotes ingredients that may be sourced locally
Sweet potato tortillas – makes 12 tortillas
2 cups white flour or gluten-free flour*
2 cups sweet potatoes*, about 2 medium sweet potatoes, peeled and cubed
½ tsp salt
Olive oil spray or olive oil for the pan
Vegetable filling
3 Tbsp olive oil
1 red onion, diced*
4 cloves garlic, minced*
1 red pepper, chopped into small bite-sized pieces*
1 small head broccoli, chopped into small bite-sized pieces*
4 carrots, peeled and shredded*
1 bunch of baby spinach (about 4-5 cups packed), cleaned, chopped*
1 cup cheddar cheese*
½ cup of enchilada sauce (see below)
Enchilada sauce
3 Tbsp olive oil
3 Tbsp white or gluten-free flour*
1 Tbsp chili powder
1 tsp garlic powder
1 tsp cumin
½ tsp onion powder
½ tsp dried oregano
¼ tsp. smoked paprika (optional)
½ tsp salt
½ tsp black pepper
3 Tbsp tomato paste
2 c vegetable or chicken broth*
1 Tbsp apple cider vinegar*
Toppings
1 cup grated cheddar cheese*
Optional garnish
½ cup sour cream*
½ cup cilantro, washed, chopped*
PREPARATION
Step 1: Sweet potato tortillas
1a. Preheat oven to 375°F. Cook sweet potatoes. Fill a medium pot with hot water and salt, heat to a boil. While water is heating, peel and chop sweet potatoes into small cubes. Carefully add sweet potatoes to water and boil until soft enough to mash, about 10 minutes. Drain sweet potatoes and mash.
1b. Make the dough. Combine the flour and salt together in a bowl. Add the warm mashed sweet potatoes to the flour mixture and stir until flour is completely absorbed.  
1c. Knead the dough. Dust flour over a clean, dry surface. Knead the dough for about 2 minutes until no longer sticky. If it seems too wet or sticky, add a little extra flour. Place back in the bowl and cover with a damp towel. Allow dough to rest for 5 min. While dough rests, prep the vegetable filling.
1d. Roll the tortillas. On a flat surface dusted with flour, use floured hands and a rolling pin to flatten the dough ball into a pie shape. Cut the dough into somewhat equal 12 pie-piece-shaped wedges. With floured hands, roll each wedge into a ball. With a floured rolling pin, roll each ball into a 6-inch tortilla about 1/8" thick. If you stack the rolled-out tortillas, be sure to separate them with parchment or waxed paper to ensure they don't stick together. Otherwise, leave them on a flat surface until you cook them.
1e. Cook the tortillas. Heat a nonstick or cast iron skillet over medium heat. Spray with olive oil or add a small amount of oil, just enough to barely coat the pan. Cook tortillas for 1-2 minutes on each side until slightly browned. Stack on a plate and cover with a towel to keep warm and flexible.
Step 2: Vegetable filling
2a. Prep the vegetables. Peel and chop red onion and garlic. Clean and chop red pepper and broccoli into small bite sized pieces. Peel and shred carrots. Chop spinach.
2b. Cook the vegetables. Heat olive oil in a large sauté pan over medium heat. Saute the onion for about 5 minutes until softened. Add broccoli, peppers, and carrots. Sauté for another 3 minutes. Add spinach (it will cook down quickly) and garlic, sauté 3 more minutes.
 
Step 3: Enchilada sauce
3a. Prep ingredients. This sauce comes together quickly, so have your ingredients ready and near the stove. Measure and combine the flour, chili powder, cumin, garlic powder, oregano, salt, and optional smoked paprika into a small bowl. Measure tomato paste and broth and keep near the stove.
3b. Make the roux and cook the sauce. Heat oil in a small pot over medium heat for 30 seconds. Add the flour and spice mixture. Stir and whisk continuously over medium heat for one minute, being careful not to burn the spice/flour roux. Add vegetable stock and tomato paste and whisk together until smooth. Reduce to medium-low heat and allow the sauce to simmer for 5-7 minutes or until the sauce has thickened. The sauce will continue to thicken as it cools. Remove from heat and then whisk in the vinegar. Season to taste with salt and pepper.
 
Step 4: Assembly
4a. Fill tortillas. Add a 1 cup of grated cheese and ½ cup enchilada sauce to the vegetable filling and stir to combine. On a flat surface, place a scoop of vegetable filling in the center of the tortilla and spread lengthwise. Coat the bottom of the baking dish with a ladle of enchilada sauce. Roll up each tortilla and place in the baking dish on top of the enchilada sauce, seam side down. Fill and roll the pan. Smother enchiladas with remaining sauce and cup of cheese until evenly covered.
Step 5: Bake enchiladas
5a. Bake uncovered at 375°F for 15 minuntes, or until the cheese is melted and sauce begins to bubble. Carefully remove from the oven and allow to cool for a few minutes before serving with your garnish of choice.
NOTES + TIPS
This recipe is adapted from the 2019 Sharon Shredder's recipe with edits from Jr Iron Chef VT. Enchilada sauce adapted from Cookie and Kate's enchilada sauce.
Tortillas: Sweet potatoes take the place of water to provide nutrient-packed moisture for this recipe. Unlike corn tortillas, these do not require a tortilla press and roll easily out with a rolling pin. This versatile soft, thick, and chewy tortilla is the perfect foundation for other recipes such as quesadillas, nachos, and pizza. Our recipe testers had to make a second batch of these tortillas to complete the enchiladas. The first batch disappeared as soon as they were cooked, eaten like warm Indian chapati flatbread with butter.
Roux: In classic French cooking a roux is used for thickening sauces by combining equal parts a starch (typically flour) and a liquid fat (melted butter, cooking oils, or lard). These are combined and cooked together before adding the liquid. There are four types of roux: white, blonde, brown, and dark brown. While the ingredients are the same for all four, the colors of the roux change based on how long the roux is cooked. This enchilada sauce recipe uses a white roux which is the most common and thickest of them all, typically used to thicken sauces, gravies and soup. A darker roux is used to add deeper flavor and color to a dish such a Cajun and Creole gumbo.