Team Stories
Addison County organizations celebrate JIC participants
This week, we highlight a community champion of Jr Iron Chef Vermont!
We are so honored to share the story of the efforts of Annie Harlow of ACORN (Addison County Relocalization Network) bring the joy of baking and cooking to all Jr Iron Chef participants in Addison County. For the past four years, Annie and ACORN have worked in collaboration with community partners, members, and organizations to bring a special gift to every student active in JIC. Blossoming from a silent storm of Annie's ideas, a vision formed, and from that vision came a reality. The fruition of awarding each participant a quality cooking pan stemmed from the recognition that not all teams can be deemed "official winners" on game day! Of course, all students ARE winners, but not all can take home the coveted grand prizes at the event. A solution...let's find prizes to award them!
"We want to let the students and teams know that we believe in them," notes Harlow. The team at ACORN wants to make a difference in the lives and experiences of the student chefs. "Jr Iron a Chef is an event that knows no cliques or exclusive peer group. It fosters recognition and support from the community as well," Harlow notes the strengthening recognition of ACORN as a community organization to future consumers.
Each year, ACORN seeks the support from local sponsors to help make this once brainstormed idea into a reality… one that can change the lives of students forever! Neat Repeats, The Eagles Club of Addison County, Basin Harbor Club, Citizen's Bank, and Middlebury College Dining Services are among the revered sponsors who have assisted in past years.
In some Addison County schools, the practice of tier-to-tier learning is implemented, in which older students teach the younger students about exciting happenings, events, and share in the community of knowledge and education. Harlow remarks on the benefit of sharing stories and personal accounts to document its importance, "Students who participated in Jr Iron Chef will present their experiences to the younger students. This sparks interest and excitement to one day take part in Jr Iron Chef, too!"
Distributed to each team individually, often at school functions, the student chefs are recognized by a number of fellow students, parents, faculty and staff on their special day. In 2015, 37 student chefs received the generous gift from ACORN and fellow partners, and are looking to do just the same again this year! A special thank you to Annie for bringing the joy of cooking and baking to our youth in Addison County!

The All Wrapped Up team from Twin Valley High School won the 2015 Crowd Pleaser award for their Mayan Couscous Seared Wraps with Cream Sauce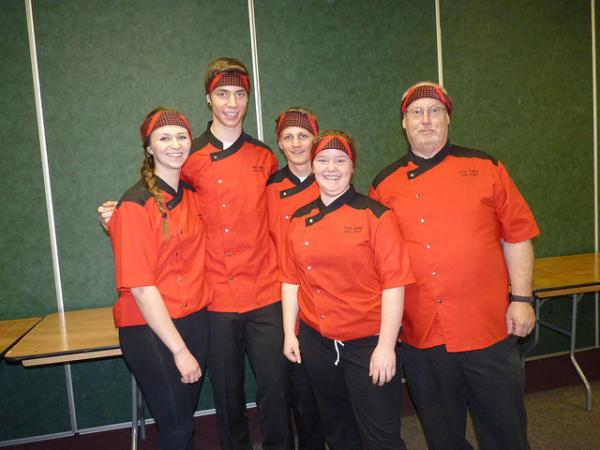 Every year, Twin Valley Middle and High Schools bring their A-game to Jr Iron Chef VT. And most years, at least one of their teams leaves victorious. How do they do it? According to head coach Lonnie Paige, there are many reasons why these teams from small-town Wilmington have managed to stay top competitors since the beginning.  
Paige, Food Service Director for Twin Valley Schools, thinks one key to their success is that students have ownership over the process. "The kids assemble their own teams and select their own coaches, too," he explains. "Friends work well with friends." Collaboration among friends encourages students to share ideas and perspectives without fear of judgement or rejection.  
Another factor that Paige contributes to the teams' success is the competitive edge they bring to the table. "We approach it as a competition. We want to win," he explains. "We arrive to kick butt, and that gets the kids excited and motivated to succeed." Whatever they are doing, it seems to work.  
Twin Valley's success at Jr Iron Chef VT has had a ripple effect. Fellow students see the teams working hard and having fun, and they want to be part of the action. In fact, the state event has become so popular the school now hosts its own qualifying event to determine which teams  from each school will go on to compete in Jr Iron Chef VT.  
The state competition rules limit participation to no more than two teams per school, but Twin Valley could send many, many more. More than half of the middle school competes in the runoff. "Ninety kids participated the fifth year we held the event. That's around 18 teams—out of just 240 kids in both the middle and high schools!" Paige said proudly.  
The runoff is a "large, community-supported event," he explains. "I get local chefs and celebrities to be the judges. Parents volunteer as runners and assist in whatever else needs to be done. I try to mirror the competition that Jr Iron Chef VT puts on."  
The Twin Valley community also plays a role in the success of the teams.  "We visit local farms and cheese factories, and the kids don't always realize they're being immersed in it," notes Paige, who is also the former owner/chef of the now-closed Alonzo's Pasta and Grille in Wilmington. "We show them how things are grown and made. They experience for themselves how much better local food is."  
The teams host several fundraising events before the state competition to increase public awareness and build support. They raised nearly $2,000 making and selling food at a local salsa competition. The teams also demonstrate their recipes for groups and cook fundraising breakfasts in partnership with the Rotary Club and the Masons.  
Paige even reopens his old restaurant for one night and allows the kids to prepare salads, soups, and desserts for the public. "It teaches the students how the restaurant business works, and they also get to have fun making and delivering food to customers," he noted. "The local people love it, and it excites the kids to see their creations being enjoyed by others." It also helps to amplify the students' confidence when it comes to approaching the competition.  
"After we won for a third year we had a documentary team following one of our champion teams throughout the entire preparation process through the event," he added.  
The effects that Jr Iron Chef VT has on the students, the school, and the town are long-lasting. There is great importance in inspiring kids to appreciate healthier, local food options and showing them their own potential in the kitchen. Paige adds, "Kids in the elementary school tell me they can't wait to be in middle school, just to be able to join in on the fun of the Jr Iron Chef VT Competition!"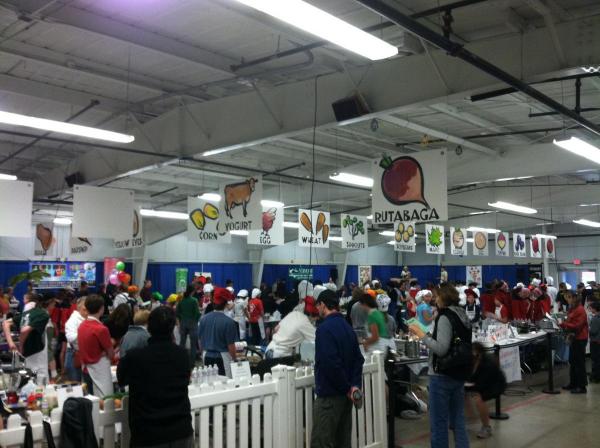 Whitcomb Junior/Senior High School, Making Connections with Local Farmers
As the Whitcomb Junior/Senior High School teams prepared for Jr Iron Chef VT (JIC) they picked up more than just great recipes and cooking skills; they also gained enduring friendships and connections with local farmers.  
"When the teams first came up with their recipe ideas, we thought about the ingredients we'd like to use and where we could get them locally," explains Coach Dawn Fuller-Ball. "Then each student wrote a letter to a local farmer or producer to tell them about the competition and ask if they'
d be able to help the team." Fuller-Ball, who has been coaching JIC teams since 2012, is a Health & Family and Consumer Sciences teacher at the Bethel school. Connecting students to food resources right in their community is her top priority, even if it requires students to step outside their comfort zones. "After they wrote the letters, they followed-up with a phone call to the farmers," she explained. "I wanted the farmers to hear their voices, not mine." Many students expressed hesitation at first but eventually picked up the phone.
"I think it builds self-esteem and character," she added.  "Working through this process develops skills in problem-solving, team building, and leadership."
The personal outreach from the students proved to be powerful, as the farmers were very responsive.  Local farms provided key ingredients like milk, potatoes, spinach, and onions at a significant discount, many times as an in-kind donation. The teams transformed the ingredients into delicious dishes. The middle school team, "The Whitcomb Cheesy Five," created a butternut squash-enhanced 
Mac n' Cheese Bowl, artistically presented in hollowed-out squash bowls. The "Whitcomb Hornets" high school team made savory crepes drizzled with a spinach-basil-onion vinaigrette, which won the "Lively Local" award.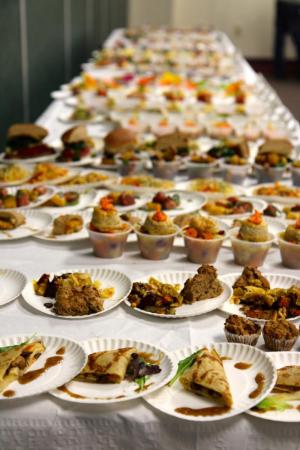 Building teams—and confidence    
"Getting students to sign up is easy," Fuller-Ball says. She advertises the competition in her classes, posts flyers throughout the campus, and relays messages on internal and external announcements. She recruits teams based on suggestions from other teachers and school counselors and reaches out to anyone she thinks may benefit from the opportunity. "It's a good way to get the students active in a hobby."
The process of collaboratively creating a recipe takes about six weeks. At their first meetings, the teams gather ideas based on the students' favorite dishes. Recipes that contain meat or nuts are opted out as the event is vegetarian and nut-free. "They pick three different recipes and brainstorm how they can add a little twist that uses local ingredients," explains Fuller-Ball. Taste tests determine which recipe is chosen. "We all vote on them, and students take the recipes home to get their family members' opinions, as well."   
There are challenges that come along with the Jr Iron Chef VT competition particularly staying within a budget, making sure everyone is participating in the process, and helping students understand the importance of accountability: attending each meeting and practice.
"The best part is seeing the students grow in maturity, confidence, and perseverance," notes Fuller-Ball. "The energy at the competition is amazing, and students are exposed to other food ideas and how other teams work together. And they experience performing under pressure and dealing with unexpected situations. They inspire me."