Current Projects
As a national farm to school leader, VT FEED takes on projects that advance the movement; advocate for stronger food, farm, and nutrition policy; and develop innovative tools and best practices for farm to school programs.
Click on the titles for expanded information.
Vermont Farm to School Network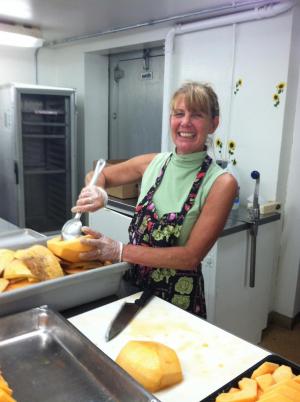 The Vermont Farm to School Network provides statewide leadership, coordination, and advocacy to advance new and existing farm to school efforts in Vermont classrooms, cafeterias, and communities. VT FEED provides backbone coordination and support for the Network, which includes farm to school advocates, practitioners, and programs from across the state.
The Vermont Farm to School Network's vision is for every Vermont student and school community to be engaged in a local food and farm culture that nurtures children's health, cultivates viable farms, and builds vibrant communities. VT FSN does this by connecting the farm to school community through a listserv, events, shared resources, and collaborative projects.
In 2014, we launched a strategic mapping process that helped identify the key levers of change in the farm to school system and to organize action within the Network on those levers. Five Action Teams have been formed: Ease of Use, Economic Value, Supply Innovation, Educational Value, and Farm to School Demand. Thirty-five farm to school leaders are working together on strategic projects to advance our collaborative goals. It's now online and available for everyone to view.
National Farm to School Network – Northeast Region
As the Northeast Regional Lead of the National Farm to School Network, VT FEED facilitates the Northeast Regional Steering Committee (RSC) that includes Connecticut, Maine, New York, Massachusetts, New Hampshire, Rhode Island, and Vermont. Leaders from each state make up the Northeast RSC: an active group of farm to school innovators who work within their states and region to advance farm to school initiatives through networking, peer sharing, project implementation, policy, and convenings. The Northeast RSC  has a strong history of successful collaboration and has been a collective seven-state voice with food service management companies, policy positions, and regional partner coalitions, including the creation of the cross-state, cross-sector Farm to Institution New England network.
Active since 2008, the Northeast RSC has held national and regional conferences, forums and trainings, and worked to develop large-scale procurement projects to identify and overcome barriers to sourcing local food for schools. Being a region of small- and medium-sized states that rely on shared supply chain infrastructure, the Northeast partners work together on many aspects of farm to school. Included in this is a deep partnership with Farm to Institution New England. There are strong and growing farm to school programs in all seven states. According to the most recent USDA Farm to School survey, close to 6,000 Northeast schools are bringing the farm to the school, serving over 3 million students and spending over $58 million on local products.
Jr Iron Chef VT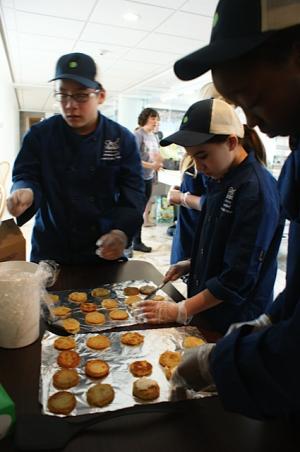 Jr Iron Chef VT is a statewide culinary competition that challenges teams of middle and high school students to cook healthy, local dishes. Started in 2007 in partnership with the Burlington School Food Project, Jr Iron Chef VT has been committed to providing student chefs with hands-on experience cooking nutritious, farm-fresh foods and inspiring school meal programs. Establishing a connection to food—including its origin and preparation—is a critical step towards developing lifelong healthy eating habits.
Each year between 60-70 teams compete at the state fairgrounds with close to 1,000 spectators cheering the young chefs. Teams are made up of 3-5 students in grades 6-8 (middle) or 9-12 (high). Along with their coaches, teams meet together through the fall and winter to develop and practice recipes and source their local foods. On competition day, they gather at the Champlain Valley Exposition to prepare their dishes and compete against teams from around the state. Judges critique each recipe under the guidance of Chef Jim Birmingham from the New England Culinary Institute. Students are judged on teamwork, presentation, use of local ingredients, and taste. Student recipes are frequently then featured in their school meal programs.
To date, more than 2,000 Vermont students have competed. Winning teams receive a prize package designed to inspire them to continue to pursue their passion for cooking healthy foods from scratch. They also have the opportunity to prepare their award-winning recipes for legislators in the Vermont Statehouse Cafeteria.
Stay tuned! The 9th Annual Jr Iron Chef VT will take place March 19, 2016. Team registration will open in the fall of 2015.  
Farm to School Advocacy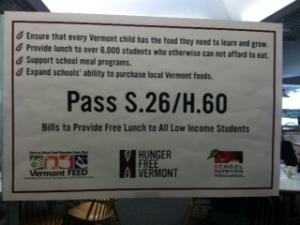 VT FEED is a leader in advocating for state and federal policy and resources that support farm to school. Each winter, VT FEED partners with the Vermont Agency of Agriculture Food and Markets to host Farm to School Awareness Day at the Statehouse. We also organize testimony for the various Legislative Committees on the benefits of the Vermont Farm to School grants program and the economic, health, and educational outcomes we are seeing from farm to school programs. VT FEED develops materials that help to make the case
We also advocate for federal policy supportive of farm to school, including the Farm Bill and the Healthy, Hunger Free Kids Act. We work to raise awareness of these opportunities and provide Vermont's Congressional delegation and our partners and networks with information on the impacts of the proposed legislation, to ensure that the policies provide the greatest benefit to Vermonters.     
Local Purchasing Research & Innovation
​VT FEED conducts research, identifies best practices, and develops tools to remove the barriers associated with local purchasing. We have developed a strategy called "Values-Based Tiered Buying," which helps institutions articulate the unique values of their local purchasing programs, set goals and make commitments to increase their purchasing, and market their programs to build greater consumer awareness.
Our process and tools help institutions think through a set of core questions:
What values inform their purchases?
How can institutions keep their customers and the larger community informed about the rationale behind their practices?
How can regional purchasing help institutions achieve many of their goals for local purchasing, while countering challenges with supply and seasonality?
VT FEED offers tools and technical assistance to support institutions in developing a Values-Based Tiered Buying approach. Visit NOFA-VT's website to access the tools.
​NOFA VT Farmer Correspondence Program
Through the NOFA VT Farmer Correspondence Program, mentors match classrooms with farmers based on students' interests and grade levels. This establishes a relationship, and each farmer-classroom pair is eligible for a farm visit either in the fall before the letter writing or in the spring as a culmination.